Cameras
Aven Offers Rebate for iLoupe Microscope Camera
Aven Offers Rebate for iLoupe Microscope Camera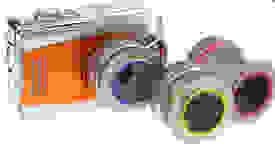 December 4, 2006 – Aven Inc. announced today a rebate for their iLoupe microscope camera which was announced last month.Consumers of the "world's first compact portable field microscope" will receive $300 cash back on the iLoupe Starter Pack and $350 cash back on the iLoupe Pro Pack with three lenses.
The microscope-camera hybrid uses a Canon SD600 and a removable lens attachment geared towards field research.The iLoupe can magnify objects up to 150 times and can detect objects as small as 6mm to 10 microns. 
The iLoupe Starter Pack normally retails for $1255 and includes the 6-megapixel Canon SD600 with an adapter ring, LED lighting module, and a 10x-60x objective lens.The iLoupe Pro Pack adds two more lenses, the 20x-100x and the 30x-150x lens and retails for $1755 without the rebate, according to a customer service representative.
The Aven iLoupe rebate offer is available at http://www.stanleysupplyservices.com/product-group.aspx?id=12467#2 until Dec. 29.