Cameras
BenQ Introduces T700 with Touch Screen LCD
Read about BenQ's new touch screen digital camera, the T700.
April 3, 2007 – BenQ announced its newest point-and-shoot camera last week with the introduction of the T700. Featuring a 3-inch touch screen LCD, the 7-megapixel camera has a retail price of $10,990 Taiwanese dollars (equivalent to $331 USD) and will be available in Taiwan and Europe.
Called the world's slimmest, according to a March 27 company press release, the BenQ T700 measures 3.58 x 0.66 x 2.32 inches, with 0.58 inches being its slimmest point. The camera is equipped with a 7-megapixel CCD sensor and an extending 3x Pentax optical zoom lens, part of their Sliding Lens System.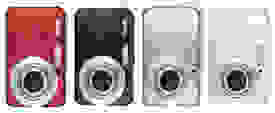 The T700 possesses a 3-inch, 232,000 pixel resolution LCD monitor with touch screen capabilities. Users can write memos on their images or activate camera functions by touch.
The BenQ camera has a Super Shake Free system with a sensitivity of 1200 ISO and a high setting at 1600 ISO that can be engaged during movie mode. Users can record video in MPEG 4 format at 640 x 480 at 30 fps.
The BenQ T700 accepts SD memory and Li-ion batteries. The camera is available in four colors: red, black, silver and white.