November 2, 2004 – For a limited time, the 6.3-megapixel Canon Digital Rebel will be available with a solid black finish, Canon announced yesterday. The digital camera comes with an 18-55mm zoom lens and retails for $999. When the Canon Digital Rebel was announced in August 2003, critics hailed the low price and quality digital SLR features but bashed the cheap looks. Canon is hoping to remedy this with the solid black makeover.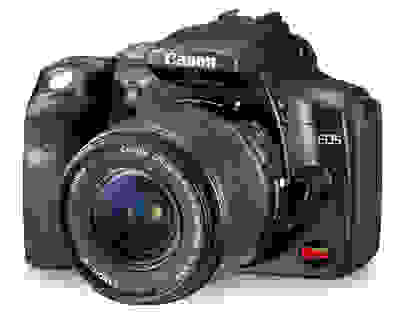 "The new black body will appeal to even more people with a more professional and fresh new look and easy-to-use advanced functions at an affordable price point," said Yukiaki Hashimoto, senior vice president and general manager of the Consumer Imaging Group at Canon U.S.A.
Canon is sweetening the deal by throwing in the "Cash in with Canon" rebate program, which will give buyers of the Rebel a $100 mail-in rebate between October 15, 2004 to January 31, 2005. If that wasn't incentive enough, the rebate enters the buyer in the Canon Fantasy Photographer Sweepstakes. The prize? A trip for four to the NFL Pro Bowl in Hawaii, a Canon 20D digital camera and a photographer's dream seat – on the sidelines shooting with the pros.