Cameras
Canon 5D Mark II: 1080p HD Video SLR Announced
Ending months of rumors, Canon has announced their long awaited update to the 5D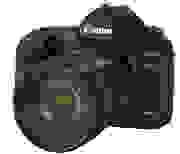 September 17, 2008 – Ending months of rumors, Canon has announced its long-awaited update to the 5D. Armed with a 21-megapixel full frame CMOS sensor, the 5D Mark II will be able to record full HD video with 1920x1080 at 30 frames per second. The camera will ship in November for $2699 body only, and $3499 with a 24-105mm lens.
The 5D Mark II will be Canon's first SLR to record video, much like Nikon's recently announced D90. However, the Canon will be able to record 1920x1080 at 30 fps, an improvement on the Nikon's 1280 x 720 at 24 fps. Maximum recording time for a single high-def video will be 12 minutes. The camera will also be able to record up to 24 minutes at 640 x 480, and has a mini-HDMI output for connecting to a high-definition TV. Video files are stored in MPEG4 format in a .mov file. Video recording is only available while shooting in Live View mode, with sound recorded either through the built-in microphone or an external stereo microphone. While auto focus is supported while filming, Canon recommends against it, as the noise from the lens' motor could be recorded. The Movie Snap function lets you capture a still image without stopping video recording. All camera-compatible lenses will work in video mode.
The 5D Mark II has a 21-megapixel full frame CMOS sensor that Canon claims will move data 2.2x faster than the original 5D, with a new color filter system  and the recently introduced Digic 4 processor. ISO settings runs from 100 to 6400, with extended range from 50 to 25,600. The 5D Mark II will also offer an improved burst mode, shooting 3.9 frames per second for a maximum of 14 RAW images or unlimited JPEGs when using a UDMA compact flash memory card. One feature borrowed from the Canon 50D is reduced-resolution RAW files – the 5D Mark II can record SRAW 1 (10MP) and SRAW 2 (5.2MP) when full size images are not needed, but the flexibility provided by RAW is.
Live View mode has been tweaked to add face detection technology, which recognizes up to 35 faces, and now also has two grid styles to aid in image composition.
While not in Live View, there is a nine-point focus system, with six assists. Auto focus micro-adjustments are available to match the specific lens mounted on the camera. The 5D Mark II also has light source detection, a feature adopted from the 50D, which will help with focusing.
The new camera is equipped with a 3" LCD with 920,000-dot resolution, identical to the one found currently on the 50D. The viewfinder offers 98% coverage and 33.3° field of view, and can accept interchangeable focusing grids. The 5D Mark II's shutter is rated for 150,000 cycles. The new LP-E6 Li-ion battery has a higher capacity, up to approximately 850 shots, and the camera will be able to show charge levels down to 1%. The camera is also compatible with a wireless networking accessory so files can be recorded to external media, and the camera can be controlled remotely.
The Canon 5D Mark II is  5.98" wide by 4.46" high by 2.95" deep (152x113.5x75mm), and weighs 1.78 lbs (810g).
Additionally, Canon will be releasing an update to its 24mm f/1.4L wide-angle lens. Version two of this lens will add new ED elements to help cope with chromatic aberrations, special lens coating to limit ghosting and flaring, improved dust and water sealing, and a round aperture for better background blurring. It will be available in December for $1699.