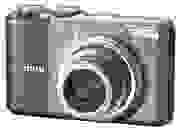 August 26, 2008 – Canon today updated its A series line with two new models, introduced the 10x zoom PowerShot SX110,and the E1 camera designed for the 'tween' market. The A2000 IS (shown here) and A1000 IS feature similar body styles, 10-megapixel resolution, optical image stabilization and AA battery power. The A2000 IS offers a 3' LCD and 6x zoom lens (6.4mm-38.4mm, f/3.2-5.9), and is priced at $249.99. The A1000 IS has a 4x zoom (6.2mm-24.8mm, f/2.7-5.6) and smaller 2.5' LCD, but adds an optical viewfinder. It will be available in blue, gray, brown and purple, priced at $199.99.
The PowerShot SX110 is a 9-megapixel ultra-zoom with a 10x lens and a 3' LCD screen, priced at $299.99.
The E1 is a near-match for the A1000 IS when it comes to specs, but stylistically veers off in a different direction. The E1 features 10-megapixel resolution, 4x zoom, 2.5' LCD plus optical viewfinder and optical image stabilization. It comes in pink, blue and white, and in a nod to its intended audience, offers user-selectable shutter sounds.