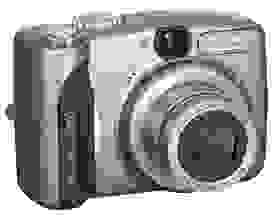 August 24, 2006 – Canon's popular A-series has a new flagship and two other point-and-shoots, the company announced today. The Canon PowerShot A710 IS is the first A-series digital camera to offer optical image stabilization. Other models announced today include the Canon PowerShot A640 and A630. All three new models will be available in stores in October.
The Canon PowerShot A710 IS replaces the A700, which was announced in February. The 6-megapixel camera had a short lifespan, as most models sell on the market for about a year. Nevertheless, Canon added more resolution and an image stabilization system to create the PowerShot A710 IS.
The new flagship model has 7.1 megapixels, and shares many of its other features with its predecessor, the A700. Both cameras have 6x optical zoom lenses, 2.5-inch LCD screens, and 20 shooting modes. The new Canon PowerShot A710 IS will retail for $399.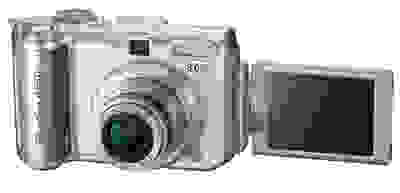 Canon's new A640 and A630 cameras offer lots of resolution at relatively low price points. The PowerShot A640 is fitted with a 10-megapixel CCD and the A630 has 8 megapixels. These digital cameras replace the A620 and A610, although the new models have almost the same physical body and flipping LCD screen concept.
The size of the actual screen is larger on the A640 and A630; it measures 2.5 inches compared to
the previous 2-inch display. Canon also states that its "grips are ergonomically improved" and that "the control layout is even easier to use than before," according to today's press release.
The screen size may be larger, but the screen's resolution remains the same. The new Canon A710, A640, and A630 all have 2.5-inch rotating screens with 115,000 pixels. The 10-megapixel PowerShot A640 will retail for $399 and the A630 will go for $299. 
Two new shooting features are included in today's latest additions to the A-series models. The Safety Zoom function operates much like Sony's Smart Zoom or Olympus's Fine Zoom. Basically, users can have extended zoom at reduced resolutions without compromising the image quality. There is also a new Digital Tele-converter function on these three cameras that "digitally emulates having a traditional tele-converter attached," stated today's release.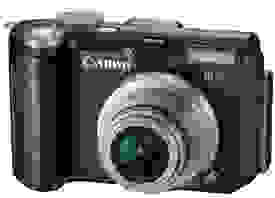 "All of our A-series PowerShot digital cameras offer consumers an easy transition from traditional film cameras to digital imaging based on form factor, ease-of-use and design," said Yukiaki Hashimoto, Canon's senior vice president and general manager of its consumer imaging group, in today's press release. "The PowerShot A-series line-up continues Canon's long-standing tradition of providing consumers with imaging excellence in an affordable and uncomplicated package."
**
Part of that "uncomplicated package" includes the A-series tradition of using AA battery power. Some other traditions of the PowerShot A-series also hold true on the new A710 IS, A640, and A630. All include an optical viewfinder, Digic II image processor, full manual functionality, and My Colors mode, a feature which adds color filters and effects while recording or in playback mode.