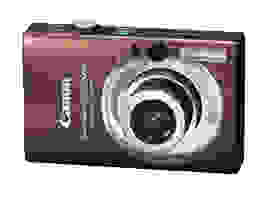 Jan. 23, 2008 - One of four point-and-shoots announced by Canon today, the PowerShot SD1100 IS will be offered in five fancifully-named colors, such as Bohemian Brown and Swing Silver, to appeal to the style-conscious consumer. Its key features include Canon's latest face detection technology, a DIGIC III image processor, and an enhanced Playback mode. It will retail for $249.99 when it is available in March.
The new Elph model features Canon's latest face detection technology, called Genuine Face Detection, which provides increased flexibility for portrait photography. Face detection automatically finds, exposes for, and focuses on faces. The improved white balance only reads the subjects face to determine the appropriate setting, rather than the whole scene, providing overall better skin tone reproduction.
Additionally, there are a few new functions that work in conjunction with the face detection. The Face Select and Track function allows users to give a face priority; the camera tracks it as the person moves. The Motion Detection function increases ISO sensitivity and thereby shutter speed to reduce the occurrence of blurry photos. The new model features 9-point autofocus that enables the camera to zoom in at various focus points to check subjects' expressions by pressing the shutter button down halfway.
Several features have been added to the Playback mode. The Image Inspection tool automatically zooms in on faces so users can check for closed eyes and expressions. The camera can automatically trim an image around faces, as well as resize images in the camera.
The SD1100 IS features basic point-and-shoot components including a 3x (38-114mm 35mm equivalent) optically stabilized zoom lens and a 2.5-inch, 230,000-pixel Pure Color LCD II, which wards off fingerprints and glare. Canon's latest DIGIC III image processor promises faster start up, autofocus, and shutter response.
The SD1100 IS accepts MMC, MMC+, HC MMC+, SD and SDHC memory cards and comes with a rechargeable battery. Color options are Bohemian Brown, Pink Melody, Rhythm and Blue, Golden Tone, and Swing Silver.