February 8, 2009 - Canon kicked the Rebel line up a notch today with the introduction of the Rebel T2i, an 18-megapixel SLR that shoots 1080p video,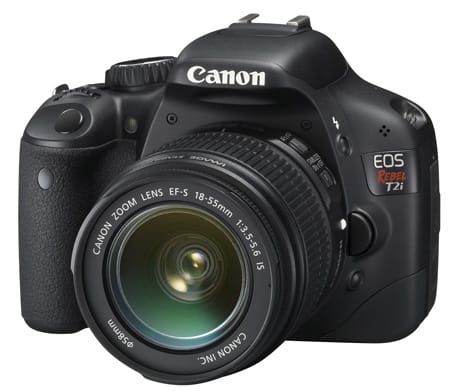 The Rebel T2i will sell for $899 with kit lens.
In addition to a resolution step-up (from the 15.1-megapixel T1i), the T2i provides a slightly faster burst rate (3.7 frames per second, versus 3.4 for the T1i) and an enhanced 3-inch LCD, with 1.04-million-dot resolution (T1i screen resolution is 920,000 dots). On the Rebel T1i, ISO 6400 is considered an extended setting, where it's an official numeric setting on the T2i. Both cameras can be pushed to ISO 12,800 as a Hi extended setting.
The T2i metering system uses the same has 63-zone sensor as the 7D, but adapted for nine focusing points (versus 19 on the 7D).
Both cameras offer high-def video recording at 1920 x 1080 maximum resolution, but the T2i provides a more usable 24 frames per second versus the choppy 20fps on the T1i. The T2i also adds the manual exposure controls found on the Canon 7D, along with an external microphone input for stereo audio.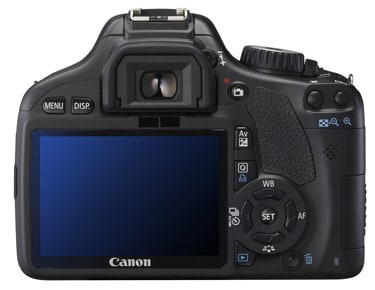 The back of the Rebel T2i.
As for camera size, the T2i and T1i are very close:
T2i measures 5.1 x 3.8 x 3.0 inches and weighs 18.7 ounces.

T1i measures 5.1 x 3.8 x 2.4 inches and weighs 16.9 ounces.
The T2i adds a dedicated movie recording button, along with a Movie Crop mode, which uses only the central part of the sensor to create an apparent 7x magnification on top of the optical zoom. Also of particular note for video recording fans is compatibility with high-capacity SDXC memory cards, which have been announced in 48- and 64-gigabytes sizes, and have a theoretical capacity of 2 terabytes.
The T2i will sell for $899 with the familiar 18-55 image-stabilized kit lens, or $799 for the body alone, with no release date announced.
The addition of the T2i coincides with the departure of the Rebel XSi. The lower-cost Rebel XS will remain in the line-up.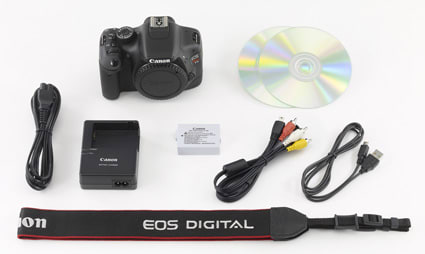 Items included in the Rebel T2i kit.