Canon announced the company's newest flagship professional DSLR today, the 18 megapixel full-frame Canon 1Dx. The 1Dx will sit atop Canon's model line as an update to both the Canon 1Ds and the 1D Mark IV, and is expected to debut for $6800 body-only this March.
The "x" in 1Dx, according to Canon, is meant to signify that this is the 10th generation of professional DSLRs from Canon, and it pushes many of the boundaries established by its predecessors.
The 1Dx will feature dual DIGIC 5 processors, which Canon claims offer approximately 17 times more processing power than the previous generation DIGIC 4s. Speaking of the previous generation, it will also make an appearance in the 1Dx, as a dedicated DIGIC 4 is included that strictly handles metering and AF control.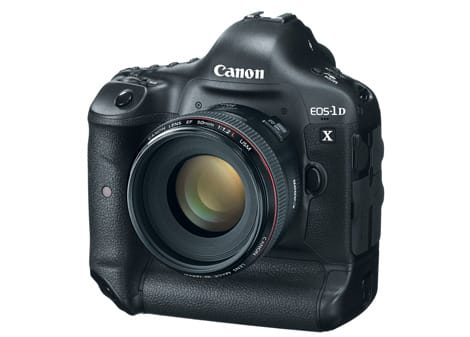 That processing power allows the 1Dx to fire full-resolution RAW and RAW+JPEG shots at up to 12fps, with a high speed mode that allows for up to 14fps JPEG capture. The 1Dx also utilizes a 100,000-pixel, 252-zone RGB metering sensor, with both color and face detection.
The 1Dx's new 18-megapixel CMOS sensor sports two line, 16-channel readout and features a combination of gapless microlenses and larger individual pixels (Canon says the sensor offers pixels that are 1.25 microns larger than the 1D Mark IV and .55 larger than those in the 5D Mark II) to gather plenty of light. That gives the 1Dx a pixel pitch of 6.95µm, close to the 7.2µm found in the 1D Mark III, while still offering more resolution than the 1D Mark IV.
That increase in pixel size allows the 1Dx to utilize an ISO range of 100-51200. The 1Dx will also offer a low ISO 50 option and two high options, pushing the ISO range to 204,800, though Canon claims the two high ISO options are designed for law enforcement, government, and forensic pursuits rather than typical use.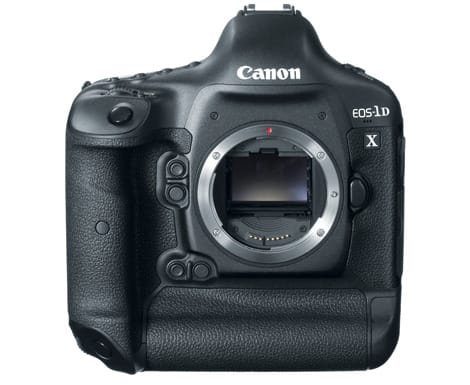 Those looking for an upgrade to the 5D Mark II for video capture may find a friend in the 1Dx, as it is capable of 1080/30p/25p/24p HD video capture, with options for 720/60p/50p as well. The image sensor has been designed with video in mind, meaning that downsampling errors and the resultant moire effect should be significantly reduced. The file system's 4GB limit has also been worked around, with an automatic file splitting functionality enabling up to 29 minute and 59 seconds of continuous video capture.
The camera also supports two methods of SMPTE-compliant timecode embedding, Rec Run and Free Run, to ease syncing up multiple cameras in post. The 1Dx will also support both intraframe (ALL-i) and interframe (IPB) compression, to aid post-production and editing workflows, depending on need. The camera also offers manual audio level control both before and during video capture with the internal monaural mic or an external stereo microphone.
The 1Dx will offer a 61-point autofocus system, with every AF point being sensitive to horizontal contrast at maximum apertures f/5.6 and larger. There are also 21 central cross-type AF points, sensitive to maximum apertures as small as f/5.6, depending on the lens. Beyond that there are 20 outer focusing points that function as cross-type with maximum apertures as small as f/4.0. The center five points are all high-precision diagonal cross-type points with maximum apertures as small as f/2.8.
The Canon 1Dx offers USB transfer, but will also sport a wired gigabit Ethernet port for stable wired transmission of video and still images at up to 1000BASE-T transmission speeds. That should allow not only faster transmission of files, but longer, more practical connection solutions for professionals. For on-camera storage, the 1Dx will eschew SD storage in favor of dual Compact Flash cards.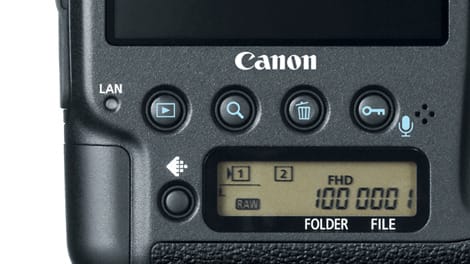 As you would expect, the Canon 1Dx will feature a full measure of weather-resistant measures in keeping with previous generations of Canon 1D cameras. The 1Dx will also make use of the LP-E4N battery, but will be compliant with the LP-E4 batteries used in the 1D Mark IV, for those upgrading. The only hitch is the new battery cannot be used in previous generation chargers.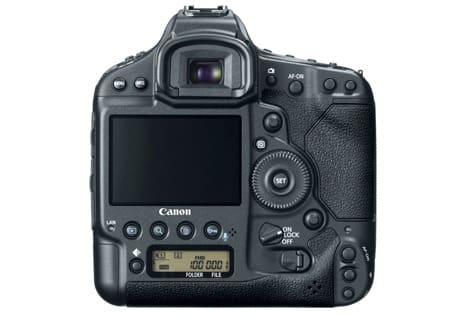 Optically, the 1Dx will offer the same viewfinder as the 1D Mark III, with 100% coverage and 0.76x magnification. There is also an increased amount of information visible in the viewfinder, with one Canon rep we discussed the camera with claiming the viewfinder is noticeably superior to one found in the 5D Mark II.
The 1Dx also offers ergonomic touches including a multi-control joystick and grips for both vertical and horizontal shooting, as well as four programmable function buttons on the front of the camera, positioned around the lens for custom control regardless of which grip the photographer is employing. Canon has also redesigned the shutter mechanism with carbon fiber blades, so that the shutter mechanism is lighter, yet more durable and rated to a full 400,000 cycles.
For more information on the Canon 1Dx and the full Canon press release, please visit Canon USA's website.
{:{PhotoGallery article.attachments}:}