*January 20, 2005 *— Today Canon has announced the worldwide introduction of a new 3.2-megapixel digital camera. The Canon PowerShot A510, which features a 4x optical zoom lens and 20 shooting modes, will hit store shelves in late January or early February. The A510 replaces the one-year-old PowerShot A75, which had the same 3.2 megapixels, a slightly smaller 3x optical zoom lens and a much larger $249 price tag. The new A510 is 13 percent smaller and 10 percent lighter than its predecessor, in part because the A75 used a CompactFlash card, while the newer camera uses a lighter SD or MMC card. Canon is expecting big things from this camera; According to the NPD Group, the A75 was the most popular Canon digital camera in the United States last year.
"Canon's PowerShot A-series has been the most popular digital camera line-up among consumers for almost two successive years,' said Yukiaki Hashimoto, senior vice president and general manager of the consumer imaging group at Canon U.S.A., Inc. "We fully expect the PowerShot A510 camera to be as well received by consumers as its predecessors.'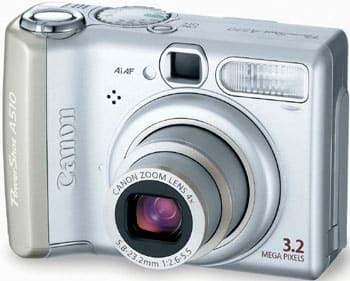 The camera is hailed for its ease of use. It runs on AA batteries, preferred by many consumers because they're easy accessible. The camera's controls are designed for quick and easy shooting changes. The A510 adds a new button to the Canon portfolio: the new 'Hold' button allows users to display the most recently captured image and delete it if desired — all without switching into Playback mode. The PowerShot A510 has 20 shooting modes, encompassing manual, semi-manual, and automatic functions. There are eight scene modes available: Fireworks, Foliage, Beach, Snow, Underwater, Kids and Pets, Night Snapshot and Indoor.
The Canon PowerShot A510 has an excellent 4x optical zoom lens, equivalent to a 35-140mm lens in 35mm format. The lens uses a fast auto focus and can focus as close as 5cm. Further, it offers a manual focus option, a feature which is quite rare in this price range. The lens also accepts close-up and telephoto conversion lenses as well as many other optional accessories. A waterproof casing allows the A510 to be immersed up to 40 meters. An optional Canon HF-DC1 zoom flash can be attached to the right side of the camera, although it looks strange - almost reminiscent of a motorcycle sidecar. The slave flash automatically syncs with the built-in flash.
The Canon Digic image processor allows the PowerShot A510 to shoot 2.3 frames per second in its burst mode. The 6.3-ounce Canon A510 has an optical viewfinder, along with a 1.8-inch LCD screen with 115,000 pixels.
A variety of printing options are made easy with a Print/Share button, which lights up when successfully connected to a printer or PC. When connected to a PictBridge-compatible printer, pushing the illuminated button once will cause the currently displayed image to print. A Movie Print mode prints up to 63 thumbnails on a postcard-sized piece of paper. An ID Photo Print mode allows users to take and print their own passport photographs. For $199.99 USD, this is a great package of megapixels, attractive style, simple scene modes, manual functions, ease of use and expandability.