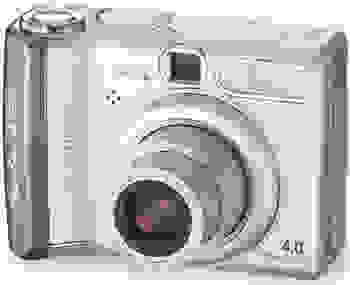 February 1, 2005 — Two weeks after the announcement of the Canon PowerShot A510, Canon announced another A-series PowerShot today. The 4-megapixel Canon PowerShot A520 replaces the A85 and improves upon it with more megapixels and a longer optical zoom lens. The digital camera will be available in March 2005 for a retail price of $299.99. The point-and-shoot goes slightly beyond the realm of compact cameras with lots of shooting options, a 4x optical zoom lens, and a host of optional accessories.
"We created the A520 model to give consumers an enhanced level of image quality and resolution without sacrificing the flexibility, freedom and fun that digital photography can be," said Yukiaki Hashimoto, senior vice president and general manager of the consumer imaging group at Canon U.S.A.
The Canon A520 is equipped with 13 shooting modes, including manual, priority, automatic and scene modes. Like the A510, the new A520 has an Underwater mode for shooting with the optional underwater housing that can go to depths of 130 feet. Other scene modes include Fireworks, Foliage, Beach, Snow, Kids & Pets, and Night Shot. The VGA Movie mode records with audio and allows users to edit movie clips in the camera.
Earlier A-series PowerShot models accepted CompactFlash cards, but the newer models — the A510 and A520 — accept smaller and lighter SD or MMC memory cards. Canon also worked on improving the camera's grip to make it more ergonomically efficient. These design changes result in a camera that is 13 percent smaller at 3.6 x 2.5 x 1.5 inches and 10 percent lighter at 6.3 ounces.
The Canon PowerShot A520 comes with a 1.8-inch LCD screen and a Hold button that allows users to extend the display of the most recent image without entering the Playback mode. The 115,000-pixel screen can also display real-time histograms.
An assortment of accessories are available for the Canon A520. The aforementioned underwater housing is available, as well as a slave flash unit. The flash unit is effective to 30 feet, while the built-in flash is only effective for 11 feet. The camera can sync with multiple flash units also. Wide angle, telephoto, and other conversion lenses are available for the Canon PowerShot A520.
The newly released PowerShot A520 is identical to the two-week-old A510, except for the megapixel count and price tag. The A510 has 3.2 megapixels and a price of $199.99. However, both cameras have the same wide range of options and accessories available. Consumers who don't print anything larger than 8 x 10 inches may want to save themselves a hundred bucks and go for the A520's baby sister.