Cameras
Canon Announces PowerShot N with Square Design, Emphasis on Wireless
Canon unveiled the new PowerShot N today, and it's one of the first major re-imaginings of their compact camera designs in a few years. Is it too square to be hip?
Canon unveiled a new PowerShot at the Consumer Electronics Show today, and it's one of the first major re-imaginings of their compact camera designs in a few years.
The PowerShot N (specs) breaks from many typical point-and-shoot conventions, starting with the physical design. Most compacts are long rectangles, like a widescreen cinema display, but the N is squarish, like a boxy tube TV. The 2.8-inch touchscreen LCD is hinged at the top rather than the sides or bottom, and tilts 90 degrees.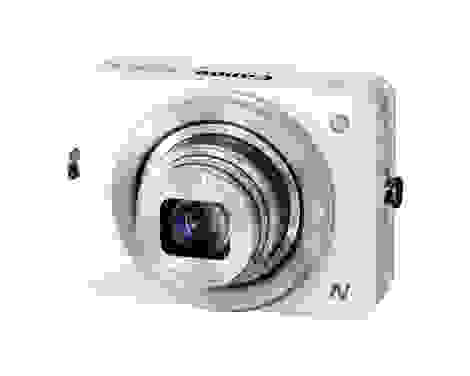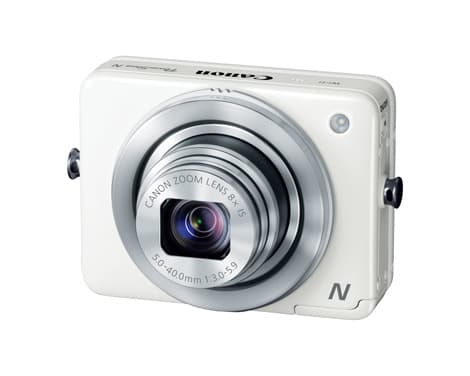 The only familiar button is the power switch; the interface is mostly touch-controlled, which isn't so odd these days, but the N doesn't even have a shutter button. Instead, there's a "shutter ring" near the base of the lens. It's stacked on top of another lens ring, which controls zoom.
Another new feature on the N is Creative Shot mode, which "enhances artistic expression" by creating five variations of a single photo by applying different color modes, crops, and filters. Take one shot, and the PowerShot N goes to work to create five distinct versions.
And because we're in the midst of a connectivity craze, Canon is playing up the N's wireless capabilities. Setup is said to be much simpler than the nightmare it was on last year's wireless ELPHs—for starters, it can remember WiFi networks and mobile devices, so users don't have to re-enter passwords every time they upload a photo, and it has a dedicated connection button. Photos can auto-upload to Facebook or Canon's cloud service (from which they can automatically transfer to a home computer), and users can even leave Facebook comments on their photos right from the camera.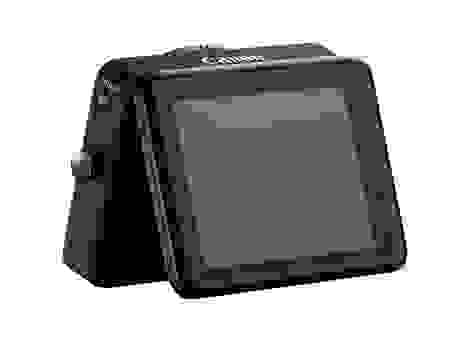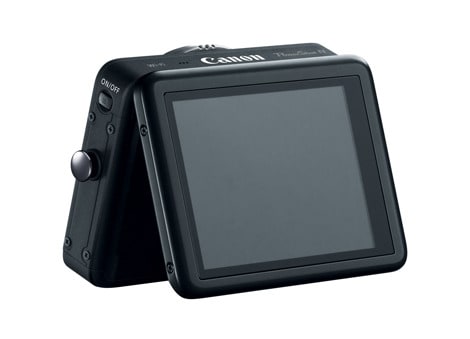 The rest of the spec sheet looks like it's basically par for the course for one of Canon's mid-range PowerShots: an 8x optical zoom lens starting at 28mm, a 12.1-megapixel CMOS sensor and DIGIC 5 processor (known together as the High Sensitivity system in Canon cameras), optical image stabilization and 1080p HD video to name the most obvious.
So what do we have here? A clever new hybrid? Or something too square to be hip? (Sorry.) Camera companies haven't proven to be great makers of mobile devices so far, but apparently Canon feels pretty confident this time around. We plan to get our hands on the PowerShot N as soon as the CES floor opens, so stay tuned for a hands-on preview this week.
The N is slated for an April release in black and white for $299. For more info, see the official press release below, or head to Canon's online pressroom.
---
Official Press Release
*
NEW POWERSHOT N DIGITAL CAMERA OPENS NEW DIMENSIONS OF PHOTOGRAPHIC EXPRESSION
Camera Features New Shooting Styles and Easy Wireless Connectivity
Lake Success, N.Y., January 7, 2013 – To inspire creative exploration and encourage instant sharing of life's every day moments, Canon U.S.A., Inc., a leader in digital imaging solutions, today unveiled the new PowerShot N digital camera as part of its PowerShot lineup. With an innovative Creative Shot mode that enhances artistic expression and a variety of new connectivity features that support instant sharing, Canon's PowerShot N is the ultimate storytelling tool.
Helping people's creativity bubble to the surface, the PowerShot N offers Creative Shot, a new imaging mode that intuitively analyzes an image and automatically creates a series of five artistic photos of the original with varying composition, lighting and color for an array of options that are ready to impress. In addition, the new PowerShot is equipped with enhanced wireless capabilities that connect the camera to a variety of mobile devices instantly, so users can upload and comment on their images while on-the-go.
In addition to offering powerful artistic and connectivity functions, the PowerShot N features a 2.8-inch capacitive, tilt-touch panel LCD, allowing users to capture creative images at unique angles. With a shutter and zoom ring, both located on the top and bottom of the lens, images can be snapped from virtually any position so the perfect shot is always within reach.
The PowerShot N offers an 8x optical zoom and a 28mm wide-angle lens, packaged with a 12.1- megapixel High-Sensitivity CMOS sensor and DIGIC 5 Image Processor, so your moments can be captured and preserved in stunning quality. Users can also record beautiful 1080p Full HD video with a dedicated movie button, so life's moving moments are not missed. With the built-in Hybrid Auto and Face ID systems, pin-sharp focus can be achieved quickly and easily while the camera automatically recognizes and focuses on familiar faces. For the ultimate in shooting convenience, Canon's Intelligent IS System allows the camera to automatically select the optimal image stabilization settings according to the shooting conditions, taking the guesswork out of identifying the ideal setting for each unique shot.
"An ever-increasing number of internet users continue to post their own photos and videos online," said Yuichi Ishizuka, executive vice president and general manager, Imaging Technologies & Communications Group, Canon U.S.A. "The new PowerShot N opens up a new dimension of photographic expression, helping people express their personal style and creative flair with powerful innovative Canon technologies."
Easy Connectivity Options for Convenient Sharing
The PowerShot N is equipped with enhanced wireless capabilities, so high-quality images can be shared with friends and family even while on-the-go. After an initial one-time set-up, the new Mobile Device Connect Button connects the camera to a variety of mobile devices for quick and easy sharing. Users simply press the Mobile Device Connect Button and launch Canon's free CameraWindow application , available on both the iOS and Android operating systems , to wirelessly transfer photos and videos to their device. Frequently used devices and accounts are conveniently stored in the camera's wireless history menu for quick one-touch access.
With these enhanced wireless capabilities, users now have the ability to comment on their uploaded photos directly from the camera – so being part of conversations taking place on social networking sites is easy and convenient. In addition, individuals can control the destination of Facebook uploads – choosing to share content with everyone, or post photos only to selected Facebook groups. Users can also instantly upload images wirelessly from the camera to Canon iMAGE GATEWAYiii, and automatically upload them to a computer remotely. Photos can also be printed wirelessly using Wireless PictBridgeiv on select Canon printers, including the new PIXMA MG6320 or PIXMA MX922 Wireless Photo All-In-One printers, so special moments can be preserved and cherished.
The Ultimate Tool to Capture Creativity
Creative Shot, available on the PowerShot N, is an easy, yet powerful tool to add artistic effects to your photos. In Creative Shot mode, users compose their shot and let the PowerShot N analyze the photo to apply a series of artistic elements by varying composition, lighting and color. After an image is captured, Creative Shot will render five different variations of the shot in different color modes, crops, and styles, delivering creative new perspectives automatically while still maintaining the original image.
In addition, the new PowerShot N offers 58 scenes of Smart AUTO and provides an 8x Optical Zoom to help users capture the ultimate creative shot. A first-ever for the PowerShot line-up, the camera's shutter and zoom buttons are located on top and bottom of the lens so high and low-angle shots can be easily captured. The PowerShot N features Smart Shutter, enabling users to start tracking a subject simply by pressing the intuitive touch panel LCD, and then capture the image by lifting their finger off the screen. For added flexibility, the image on the screen rotates with the camera – so people can capture even the most unique shot.
Sleek, Small and Designed for Portability
With a sleek and distinct design, the PowerShot N measures 3.09 x 2.37 x 1.15 inches, making it ideal for quick on-the-go shooting. This camera features a 2.8-inch capacitive tilt touch panel LCD, which offers 90 degrees of tilt, encourages users to capture images from a wide array of angles and positions effectively in virtually any location. The top-mounted hinge keeps the PowerShot N compact for convenient on-the-go shooting and easy, one handed operation.
The camera's 28mm wide-angle 8x optical zoom lens and shutter are both operated on the camera's dual-ring lens. The outer ring controls the shutter, which can be released from any point on the ring, and the inner ring controls the zoom, so managing the PowerShot N is easy and effortless. With these innovative new design features, users now have the ability to shoot diagonally, horizontally and from low or high angles so even the most out-of-reach image can be captured with ease.
In addition, the PowerShot N offers a new ECO Mode, a feature that provides approximately 30 percent longer battery life when enabled, by dimming the screen and eventually shutting off the display after the device has been idle for 10 seconds, allowing users to shoot more and for longer. Adding to its portability and convenience, the camera features USB charging through a computer or traditional charging by the AC adaptor, allowing users to power-up from virtually anywhere.
Pricing and Availability
The PowerShot N is expected to be available in April 2013 for an estimated retail price of $299.99, in white or black.
For more information, and a full list of product specifications, visit http://www.usa.canon.com/powershot.
*
{:{PhotoGallery article.attachments}:}