*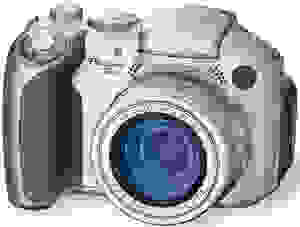 April 22, 2005 *– Boasting its advanced still and video capabilities, Canon introduced the PowerShot S2 IS. The new hybrid digital camera succeeds last year's popular S1 IS and improves upon it with more megapixels, a longer zoom lens, and an enhanced Digic II image processor to go with its 1/2.5-inch CCD. The 5-megapixel PowerShot S2 IS has a 12x optical zoom lens and an image stabilization system to aid hand shake that is visible in the telephoto mode. Canon's S2 IS will be available in June for $499.99.
With this release, Canon shows its interest in the growing market of hybrid digital cameras with camcorder functionality. The S2 IS has typical movie mode resolution of 640 x 480 and 320 x 240 pixels, both at selectable 15 or 30 frame-per-second rates. However, the camera really distinguishes itself in the options available within the movie mode. Users can adjust optical and digital zoom, image stabilization, manual focus, and even make exposure adjustments while recording. This model upgrades from its predecessor with a stereo microphone that can record at 5 adjustable levels and has a wind-cut feature. Canon expects the PowerShot S2 IS to be a popular choice among consumers.
"Digital cameras with movie capabilities have the highest penetration and primary usage rate compared to other types of capture devices," said Mike Wolf, director of digital photography research at InfoTrends/CAP Ventures. "The top reasons consumers use these digital camera hybrids are ease-of-use, compatibility and ability to share video clips through email."
The PowerShot S2 IS has impressive still capabilities to complement its video quality. With 5 effective megapixels and a Digic II imaging processor, the S2 has a full range of manual and automatic modes; it even adds five new scene modes to what the S1 had. The new model also includes a My Colors mode that can add digital filters to emphasize certain colors or add other effects such as Color Swap.
The S2 IS underwent a makeover from its previous S1 design. It is now slightly larger at 4.4 x 3.1 x 3.0 inches and weighs 14.3 ounces without the 4 AA batteries and SD card. The LCD still flips out camcorder-style – just like it did on the S1 IS. However, this display is larger at 1.8 inches. The camera body includes a Print / Share button with a blue LED in its center, designed to simplify use. Canon hopes this combination of hybrid features and ease of use will win over some of the competitive digital imaging market.
"Our convergent digital imaging technologies allow consumers to enjoy both high quality photos and video in one portable imaging device," said Yukiaki Hashimoto, senior vice president and general manager of the consumer imaging group at Canon U.S.A. "The PowerShot S2 IS digital camera combines exceptional ease-of-use, functionality and image quality in a lightweight package."