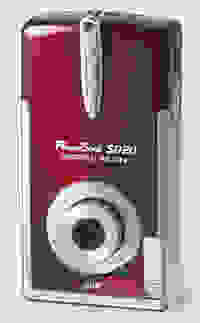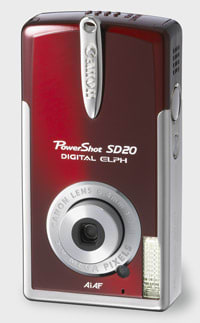 Tuesday, September 21st — Canon announced the release of the fashionable PowerShot SD20, an upgrade to the compact PowerShot line. The PowerShot SD20 looks to build off the marketable styling and condensed size of its precursor, the SD10, adding increased resolution and design options to its sleek design.
This follows in line with the SD10, which debuted last year as a fashion accessory used by designer and costumer Patricia Ford. She utilized the compact camera as an aesthetic element in her 2003 "House of Field" Fashion Week catwalk.
"It's our style line, designed to be a fashion accessory as well as an imaging device" explained Deborah Szajngarten, Public Relations Manager of Canon's Corporate Communications.
Following in this progression, the SD20 has been proclaimed by Canon as their "most picturesque fashion accessory this fall." The outer shell of the SD20 can be purchased in four distinct colors: a beaming "Garnet Red," "Midnight Blue," "Zen Grey" and "Silver." Intended as an attention-grabber, the PowerShot SD20 imbues this stylish façade with substance, building the compact from a variety of high-grade stainless steel and aluminum alloys.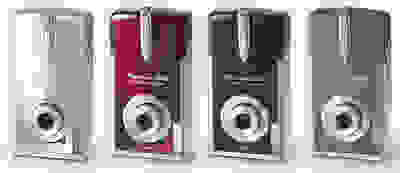 ---
Within, the PowerShot SD20 contains an all-glass, four-element lens, a DIGIC processor, and a panoply of automatic controls, indicating the SD20 was created to be more than just eye-catching.
The PowerShot SD20 is led by a single focal length 39mm (equivalent) lens with a minimum f-stop of f/2.8 and 6.5x digital zoom when needed. A five-megapixel CCD has been added, increased from the 4.0 MP imager in the SD10. The automatic focus has also been upgraded to a nine-point AIAF autofocus system.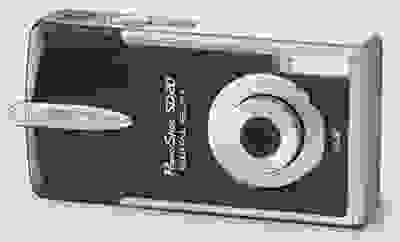 Following its predecessor, the SD20 contains the same 1.5" LCD and expansive 15-second to 1/1500-of-a-second shutter range offered on the SD10. Additionally, the six White Balance modes available have not changed; they are Auto, Daylight, Cloudy, Tungsten, Fluorescent, and Fluorescent H.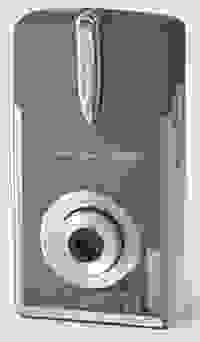 There are five new scene modes offered on the SD20, granting the user increased flexibility from the SD10. Among theme are portrait, landscape, night snapshot, indoor, and underwater as well as a Super Macro mode that is capable of focusing automatically on subjects that are 1.2" from the lens. A Quick Shot mode is included to reduce the shutter lag time.
With its sparse, compact, point-and-shoot frame, an accessory shoe would be inappropriate; therefore, the SD20 user will have to rely on the stock flash, which has a one to six foot illumination range. The flash distance is optimal when shooting in ISO 400, reaching distances of up to thirteen feet. There are four flash modes offered: Auto, On, Off, and Slow-Sync, with Red-Eye reduction available in Auto mode.
Fine, Superfine, and Normal JPEG compression formats are available to record still images at resolution sizes of 2592x1944, 2048x1536, 1600x1200, and 640x480 (VGA) for e-mail and web images as desired. AVI video with sound can be recorded for up to three minutes at resolution sizes of 640x480, 320x240, and 160x120.
The Canon PowerShot SD20 Digital ELHP will hit retail stores in October at US$349.99.