Cameras
Canon EOS Rebel XSi Reviewed by Digital Trends
The Canon EOS Rebel XSi just like its predecessor seems to be emerging as a hot favorite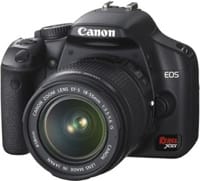 The Canon EOS Rebel XSi just like its predecessor seems to be emerging as a hot favorite. Digital Trends is the latest website to review this user  friendly DSLR and lets see how the 12 MOPshooter faired.
On testing the Burst Mode in AF setting with maximum JPEG size (4272 x 2848 pixels), the camera proved its quite a speed devil and quite capable of achieving  Canon's f 3.5 frames per second rating. Digital noise is barely visible and the imaging quality was found to be top-notch. However the over-hyped Live View is a disappointment and quite useless according to the review.
Verdict:

"We hate to sound like a skipping Internet audio stream, but it's very easy to recommend the Canon Rebel XSi. It's a fast-focusing, speedy D-SLR that delivers excellent photos both indoors and outside. At 12.2-megapixels, the camera also has more than enough resolution for huge prints, and you can just shoot in auto or tweak images as much as you'd like"