August 24, 2006 – Canon announced two new pricey lenses to its fleet of glass today. The Canon EF 70-200mm f/4L IS adds image stabilization, while the Canon EF 50mm f/1.2L USM lens replaces a similar product but with a larger aperture.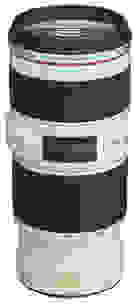 The Canon EF 70-200mm f/4 L IS comes at the request of consumers, said Canon's Director of Media and Consumer Relations Chuck Westfall, in an interview with DigitalCameraInfo.com. He said the older EF 70-200mm f/4L USM lens sold well, but customers wanted optical image stabilization. Now it's available on the new lens, which Westfall says is much sharper than the previous version.
The new Canon 70-200mm lens is small and lightweight; Westfall said it is "a pleasure to handle." The older USM version sold for about $800, but the new stabilized Canon EF 70-200 f/4L IS will retail for $1,249 when it appears on store shelves in October.
Canon touts the EF 50 mm f/1.2 L USM lens as the fastest 50mm auto focus lens on the market. The new f/1.2 lens has eight aperture blades that create a circular aperture in the center.
The new 50mm Canon lens is also about half the size of the older lens. It is moisture and dust resistant and was designed with professional wedding and portrait photographers in mind. The Canon EF 50mm f/1.2 L USM lens will retail for $1,599 in November and will come with a hood and pouch.