Cameras
Canon Intros First Compacts with Digic 4 Processor
Canon today introduced the first compact cameras to incorporate the company\'s upgraded Digic 4 processor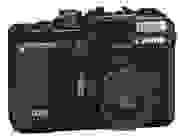 September 17, 2008 – Canon today introduced the first compact cameras to incorporate the company's upgraded Digic 4 processor, which was previously available only in the company's EOS 50D and 5D Mark II SLRs.
The PowerShot G10, which replaces the existing G9, boosts resolution to 14.7 megapixels (from 12.1) , though the 5x (28-140mm equivalent) lens is actually a step down from the G9's 6x zoom. The G10 retains its predecessor's 3-inch LCD size, but screen resolution doubles to 430,000 pixels. The G10 will shoot in RAW mode and, like the other three cameras introduced today, offer optical image stabilization.
A useful new feature of the G10 is a dedicated exposure compensation dial, making adjustments easily accessible without resorting to button combinations or on-screen menus. For self-portrait fans, a new face detect mode lets users focus on a friend, tell the G10 to wait until there are two people in frame, then have the camera wait to take a photo until they've taken a leisurely stroll into the shot. The G10 will retail for $499.
In the ultra-zoom category, the SX1 IS, which replaces the S5 IS and scrambles the existing neat numerical naming progression, boasts a 20x optical zoom (28-560), a hot shoe for external flash, and the option to use manual controls or preset scene modes. As before, the LCD screen is mounted on a pivoting bracket to pivot out from the camera and rotate at an angle horizontally. The SX1 IS is priced at $399.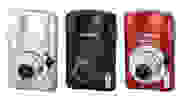 Finally, there are two addtions to the Digital Elph lineup. The SD990 IS (shown here), priced at $399, delivers 14.7-megapixel resolution, a 3.7x optical zoom and a 2.5-inch LCD. The camera will allow more manual control than previous Elph models, with support for aperture and shutter priority exposures. It will be available in three colors, silver, black and red.
At a lower $299 price, the SD880 IS, available in gold and silver, will arrive with 10-megapixel resolution, a 3-inch LCD and a 4x zoom (28-112mm).