February 21, 2007 – As part of the spring 2007 camera line, Canon today introduced the Digital ELPH SD750 and SD1000. These 7.1-megapixel cameras feature upgrades with higher resolutions, a Digic III processor, and a new display, called the Pure Color LCD. The SD750 will retail for $349 and the SD1000 will retail for $299 when they debut in March.
As replacements for the SD630 and SD600, respectively, the SD750 and SD1000 tote a higher 7.1 megapixel count over 6 megapixel on last year's models. The new Digital ELPHs carry the same 3x optical zoom capabilities but makes an upgrade with a new LCD monitor with a higher 230,000 pixel resolution, up from 173,000 pixels. The SD730 has a 3-inch LCD, and the SD1000 has a 2.5-inch display.
"There is improvement of usability on these cameras because of the screen," said Canon director of media and consumer relations Chuck Westfall in an interview with DigitalCameraInfo.com. Called the Pure Color LCD, the SD750 and SD1000 monitors come with a triple layer coating for resisting finger prints, scratches, and glaring. The new LCD promises brighter color, according to the Canon media director.
The new cameras also come with the latest Digic III processor over the Digic II processor on the older models. With the Digic III comes their face detection technology, improved noise reduction, increased sensitivity at 1600 ISO, and an extended battery life.
As far as design is concerned, the new SD cameras take on a look akin to Canon's 1996 APS cameras with square corners, according to Westfall. "We are really looking at these two cameras, both the SD750 and SD1000, to be really good strong representatives in the entry-level digital ELPH category," said Westfall.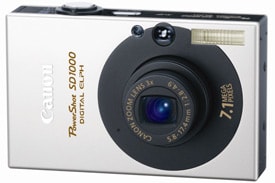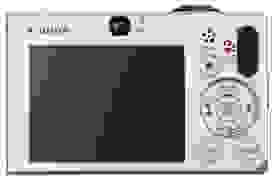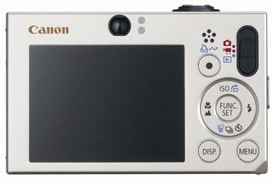 **

**
Canon Digital ELPH SD750 Key Features:
7 megapixel sensor
Digic III processor with face detection
3-inch Pure Color LCD
Canon Digital ELPH SD1000 Key Features:
7 megapixel sensor
Digic III processor with face detection
2.5-inch Pure Color LCD