Cameras
Canon Reveals TX1 with HD Video
Canon launches TX1 still and video digital camera for HD functions.
February 21, 2007 – As part of their spring product launch, Canon unveiled today a new 7.1-megapixel still camera, the PowerShot TX1, that is capable of recording high definition video. The TX1 carries a 10x optical zoom lens with optical image stabilization, face detection, and a maximum sensitivity of ISO 1600. The TX1 will retail for $499.99 when it debuts in March.
Called a "hybrid product," according to Canon director of media and consumer relations Chuck Westfall in an interview with DigitalCameraInfo.com, the TX1 is capable of still and video capture. While the combination is nothing new in the digital still camera industry, Canon's TX1 allows users to record movies in high definition (HD) mode.
The TX1 comes in a stainless steel body that is held vertically. The new PowerShot features a 10x pop-out zoom lens with optical image stabilization. The camera sports a 1.8-inch flip-out monitor with Pure Color triple layer coating to resist fingerprints, scratches, and glaring. Equipped with Canon's Digic III processor, the camera is capable of face detection and a max sensitivity of 1600 ISO.
Above all, the camera's main feature is its HD capabilities with stereo sound. The TX1 records Motion JPEG which allows users to extract individual frames from movie clips, according to Westfall. The camera can record a maximum of 4GB per movie clip at three settings: (1) 1280 x 720 at 30fps for up to 26 minutes of recording time in wide 16:9 capture; (2) 640 x 480 at 30fps for 56 minutes of 4:3 recording; and a lower resolution (3) 320 x 240 at 60fps and 30fps for up to 1 hour to video in 4:3 capture.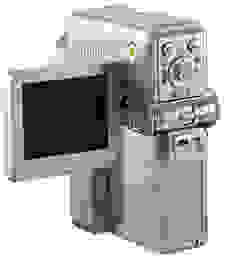 Users can optically and digitally zoom during video capture. Auto exposure and white balance can also be engaged in movie mode. Users can play back their video clips with sound in normal, slow motion, pause, and editing modes. Users can view their video on a HDTV via an audio/video cable or on a computer via a standard USB connection. The Canon TX1 is compatible with SD, SDHC, and MMC media and accepts Li-ion batteries.
This Canon still-video hybrid could be a potential rival to the Sanyo HD2, according to Westfall. "It's an interesting camera to see how it is perceived in the market place," he said.
Key Features:
10x optical zoom lens
Optical image stabilization
1.8-inch flip-out Pure Color LCD
HD video capture 
Digic III processor with face detection