Cameras
Canon Rolls Out Three A-Series Models
Jan. 23, 2008 – Canon today added three point-and-shoots to its A-series of PowerShot digital cameras: the A590 IS, A580, and A470.The A590 IS and A580 have 8 megapixels, and the A470 has 7.1 megapixels. All three feature face detection technology, moti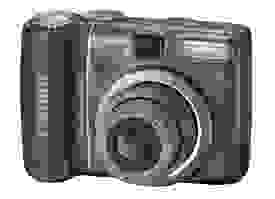 Jan. 23, 2008 – Canon today added three point-and-shoots to its A-series of PowerShot digital cameras: the A590 IS, A580, and A470.The A590 IS and A580 have 8 megapixels, and the A470 has 7.1 megapixels. All three feature face detection technology, motion detection technology, automatic red-eye removal, and an Easy mode for simple shooting. The A590IS will retail for $179.99, the A580 will retail for $149.99, and the A470 will retail for $129.99. All three are expected to ship in March.
TheA590 IS features a 4x (35-140mm equivalent) optical zoom lens and a lens-shifting optical image stabilization to minimize blur in images. It has 19 shooting modes, including options for more mansual control.
Three optional converter lenses add more range to the camera: a 1.75x tele-converter, 0.7x wide converter, and 52mm close-up lens. Each attaches over the camera's zoom using an optional conversion lens adapter.
The A580 is similar to the A590 IS, except it lacks the optical image stabilization. It has an 8-megapixel CCD-type image sensor and 16 shooting modes, including modes that allow for semi-manual control and full automatic settings.
The A470 is the follow-up to last year's entry-level A460. It comes in four new color accents: blue, red, orange, and gray, highlighted over a silver metallic finish. It has a 3.4x (38-132mm equivalent) optical zoom lens that opens to f/3.0 at wide-angle and f/5.8 at telephoto. Some manual control is allowed within the A470's 14 shooting modes, including control over ISO, exposure compensation, and white balance.
All three cameras have Canon's DIGIC III imaging processor, which Canon claims helps its A-series cameras have faster startup, autofocus, and shutter response times.
All three models have 2.5-inch, 115,000-pixel LCD screens. In addition, all three feature face detection, which automatically focuses and exposes on up to nine faces, as long as the faces are facing forward. It can also lock onto a particular face in a group of people. Motion detection traces the movement of subjects within the frame, automatically adjusting focus and exposure to compensate for movement.
Digital image stabilization works with motion detection on all three cameras to raise ISO sensitivity and increase shutter speeds to compensate for blur in images. Automatic red-eye removal is performed following each shot.
The A590 IS and A580 also feature an Easy mode, aimed at simplifying camera use even more than a standard Auto mode does. It allows for only zoom and flash control, automatically setting all other functions.
All three run on two AA batteries, and are compatible with SD, SDHC, MMC, MMC+, and HC MMC+ memory cards.