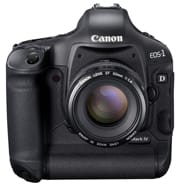 October 20, 2009 – Canon today announced the 16.1-megapixel EOS 1D Mark IV digital SLR, with extended ISO settings reaching 102,400. This replacement for the 1D Mark III also offers 1080p video recording and an enhanced autofocus system.
The new camera is physically a near twin to the 1D Mark III (see review here) Under the hood, though, substantial changes have been made, including a new APS-H format sensor measuring 27.9 x 18.6mm, with 5.7-micron pixels. The 1D Mark IV offers dual Digic 4 processors (versus Digic 3s in the 1D Mark III). And while both cameras have 45 autofocus points, the 1D Mark IV includes 39 cross-type points for greater accuracy (versus 19 for the Mark III), along with an enhanced autofocus algorithm. The 1D Mark III was widely criticized for problems with autofocus system (as detailed here).
Standard ISO settings for the 1D Mark IV range from 100-12,800, in 1/2 or 1/3 stop increments. The extended range settings add ISO 50 at the low end and ISO 25,600, 51,200 and 102,400 at the top, putting it on a low-light par with the Nikon D3S announced last week.
The new camera provides two additional RAW shooting modes, at 9 megapixels and 4 megapixels. The LCD screen has the same 3-inch 920,000-dot spec as the Canon 7D, but the new screen incorporates a layer of optical resin between the screen and the outer cover to minimize reflections. The cover has also been upgraded, from acrylic plastic to tempered glass.
Video shooting is available at three resolutions, including 1080p at 30, 25 and 24 frames per second (in contrast to the Nikon 3DS, with a maximum video resolution of 720p at 24fps). There is an HDMI port for direct connection to an HDTV. And while the built-in microphone is mono, the camera supports stereo recording via an external mic jack. There is also a second microphone, on the back, for recording voice memos.
Continuous shooting at 10 frames per second is available (same as 1D Mark III), up to 121 consecutive high-res JPEG shots or 28 RAW files.
The 1D Mark IV uses magnesium alloy both for the outer covering and the underlying chassis. There are 76 gaskets and seals for weatherproofing. Like the 1D Mark III, the new camera has dual memory card slots, one for CompactFlash, the other for SD/SDHC media.
The Canon 1D Mark IV will be priced at $4999 when it ships in late December.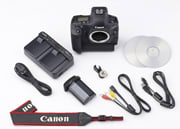 For additional photos of the Canon EOS 1D Mark IV, click here or on the image at right.