Cameras
Canon Takes the Wraps Off New G1 X, Rebel, PowerShot Cameras
Imaging giant Canon adds seven new cameras to its lineup.
Credit:
Giving its old lineup a kick in the seat, Canon announced the high-end G1 X Mark II, entry-level Rebel T5, and five new PowerShot point-and-shoots. Outed just in time for CP+, these cameras have some notable changes over their predecessors. While it isn't the riskiest camera reinvigoration in recent memory, Canon's wisely sticking with some tried-and-true formulas.
Headlining the slew of shooters with its bigger-than-average 1.5-inch 12.8-megapixel sensor is the G1 X Mark II. As its name underscores, this is the second G1X to grace Canon's lineup. It's seen a drastic design change this time around, shedding the signature G-series optical viewfinder and getting a new, leaner, meaner metal case.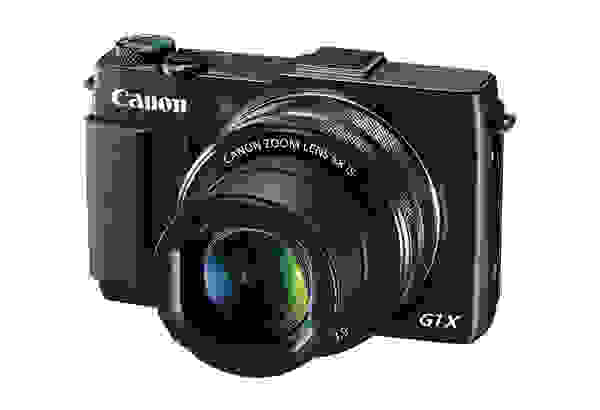 Boasting an f/2.0-3.9 5x zoom (24-120mm full-frame equivalent), the G1 X Mark II also makes use of dual control rings, tilting rear LCD, and a faster DIGIC 6 processor. If you're in a hurry to share your photos, the Mark II pairs with your smartphone or tablet over WiFi. Hitting the shelves in April, this advanced compact camera will set you back $799.99.
Next (but no less important) is the latest Rebel camera: the EOS Rebel T5. Adding to its entry-level line of DSLRs, Canon's latest Rebel with 18-megapixel CMOS (APS-C) sensor offers a modest spec bump over its predecessor outside of the sensor. Hitting a similar price point to the T3, the T5 will be available in March 2014 with an EF-S 18-55mm f/3.5-5.6 IS II kit lens for $549.99.
Throwing a refreshed rugged camera into the mix, Canon also released the PowerShot D30: Able to survive temperatures from 14-104˚F, depths of 82 ft. (a new deep-dive record for Canon toughcams), and drops from 6.5 feet. This particular camera hides a 12.1-megapixel CMOS sensor and DIGIC 4 processor beneath a blue exterior. This camera will be available for purchase in April 2014 for $329.99.
Despite releasing another PowerShot SX camera not too long ago, Canon is following it up with the PowerShot SX700: A point-and-shoot with a 16.1-megapixel CMOS sensor and DIGIC 6 processor. Like the G1 X Mark II, it can share snaps with any compatible paired mobile device using the NFC or WiFi onboard. This model will be available in March 2014 in black or red.
Bringing up the last of the cameras are three PowerShot ELPH point-and-shoots: the 150 IS, 140 IS, and the 135. Differences between each of the three are small, but notable. For example, the 150 IS has a 20-megapixel sensor and a 10x zoom, while the other two both have a 16-megapixel sensor with 8x zoom. The 150 IS will be available in blue, red, silver, and black for $149.99. The 140 IS will be sold in grey and red for $129.99, while the 135 will be offered for $119.99 in black, silver, red, and purple.
Be sure to check back later this week for more exciting news from CP+ in Yokohama, Japan.