With the release of the EOS-1Ds Mark II, professional studio and field photographers have an opportunity to blend digital SLR handling with medium format resolution to attain superior clarity, instantaneous speed, and printing flexibility from a mobile, rugged camera. Building off the strengths of its predecessor, the basic frame, design and general functionality replicates the EOS 1D Mark II, however, its sensor and image processing capability has been greatly modified. Deborah Szajngarten, Public Relations Manager of Canon's Corporate Communications describes the 1Ds Mark II as being "designed for those who want all the benefits of an SLR and the image quality of a medium format." This elite camera is meant to serve those studio and field photographers who rely on speed, image excellence, preset flexibility as well as the opportunity to print large without fear of quality degradation. Equipped with a 24x36mm full prime CMOS sensor, the 16.7 megapixel imager features expanded microlenses over top each individual pixel to improve on signal-to-noise ratio, a previous ailment in many CMOS sensors. Szajngarten explains "one thing we're very proud of that is quite significant about this product is the fact that our CMOS sensors have exponentially less noise then anything available on the market." She goes on to explain that "the sensor itself is almost exactly the same size as a piece of 35mm film."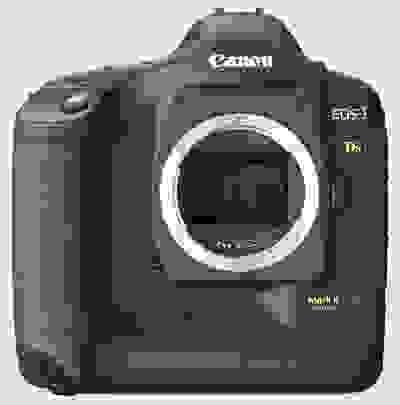 One received, the image data is transferred to a DIGIC II image processor, working to create a more naturalistic rendering of the image. The DIGIC II processor is used to gain speed in processing and recording as well as working to increase color gradations and vibrancy. The camera strives to produce "high definition at high resolution with extremely low levels of false color artifacts."
Elaborate settings and customized options provide flexibility and opportunity for image precision. With five preset and two custom color matrix settings, the 1Ds Mark II takes color rendition to a level beyond the five customized options available on its preceding model, the EOS-1Ds. To help provide exactitude of color values, there is a nine-step +/- White Balance control, granting the user complete control of the tone. There is also a three-stop white balance bracketing option available as well as bias compensation for blue/amber and green/magenta tones. There are a total of 10 white balance settings in all.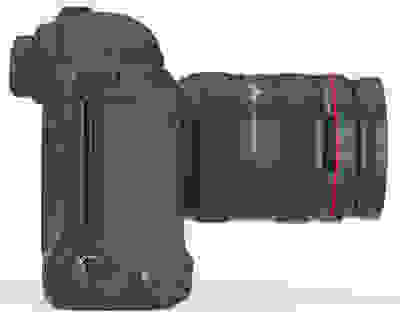 Color accuracy can be assured through the utilization of the 1Ds Mark II's RGB histogram. The RGB histogram will allow the user to break down the tonal composition of their image and view the color and illumination values for each color channel. This includes color saturation values, compression of color gradations, white balance bias, as well as overall color balance. Expansive ISO ratings of 50-3200 are available with ISO100 – ISO1600 available in 1/3-stop increments. This expansive range is amplified by the low signal noise levels produced by the 1Ds Mark II, as Szajngarten states, "what you would look at ISO400 on another camera may resemble closely what you would get from ISO 3200 on this camera." In addition to image quality and clarity, speed is paramount on the 1Ds Mark II, shooting up to four frames per second at full resolution with bursts capabilities of 32 frames in JPEG mode and 11 frames in RAW before needing to write the data to a card. The 1Ds Mark II can record an exposure 0.3 seconds after it is turned on, making it ideal for sports photographers and photojournalists who need instantaneous coverage and reaction to an unveiling situation.
To provide the necessary shooting responses, the EOS-1Ds Mark II amply supplies a wide range of shutter speeds to accommodate long exposures as well as rapid use. With speeds ranging from 30 seconds to 1/8000 of a second, the desired exposure duration is at the user's disposal. The variations in-between can be customized by the user in 1/3, ½, or full step increments.
There is a 45-point automatic focusing system, 21-zone metering sensor working with E-TTL-II flash metering technology. The camera is fully compatible with TS-E and MP-E lenses along with the entire line of EF lenses, with the exception of EF-S styling. The EOS-1Ds Mark II is compatible with all EX speedlites and E-TTL wireless autoflash system, utilizing the E-TTL II flash control system designed to perceive dimensionality in regions of the image beyond single points. This allows the sensor to more accurately gauge the illumination necessary for specific areas of the composition. This is achieved through the use of 17 metering zones measuring the refracted light throughout the frame.
Since "The EOS-1Ds Mark II camera offers the world's highest pixel count in a 35mm, full-sized digital AF SLR camera," the files are enormous. There are five image quality settings or size options on the 1Ds Mark II: RAW (16.6 MP - 4992x3328), Large JPEG (16.6MP), Medium 1 JPEG (8.6 MP), Medium 2 JPEG (6.3MP), and small JPEG (4.2 MP). The Raw and Large JPEG files can be recorded simultaneously when desired; both files open in Photoshop at 47MB. The advantage of these large files and pixel count is that they will result in 16x24 inch prints or perhaps larger with no noticeable degradation of quality.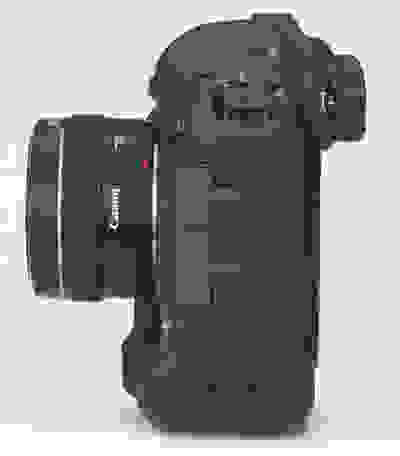 The body of the 1Ds Mark II is complete weather resistant magnesium ally designed to handle the wrath of exterior elements without fear. The lens mount is comprised of stainless steel. Along the back of the 1Ds Mark II, there is a 2", 230,000 pixel high detail color LCD screen. The resolution count is nearly double its predecessor, the EOS-1Ds' 120,000 pixel display and provides 100% frame coverage. There is a 15-stop scroll option that can be applied to the 1.5x-10x playback magnification zoom. The user can then rotate the images 90 or 270 degrees clockwise or view vertically shot images horizontally. The LCD monitor contains adjustable brightness settings and bold typeface to ensure users can properly denote the listed settings.
Customization is a key element to the 1Ds Mark II's design, working to create an imager that is tailored to its user. Containing 20 Custom Functions, 65 settings and 27 personal functions that can be saved to the camera directly, stored on a memory card, or uploaded from external software.
There are two media card slots available to save data to, providing the user the option to utilize a Compact Flash (Type I or II) or SD card simultaneously or individually for expanded memory. There are also outputs to an external computer, TV monitor, a USB port, Direct Print options for BJ Direct, CP Direct, and PictBridge compatible printers. An optional WFT-E1 Wireless File Transmitter can be used with a mini antenna to grant photographers the freedom to transfer information remotely.
The camera body will be available for shipping in November for just under US$8000.