Cameras
Canon Unveils 1D Mark III with 10.1 MP APS-H size CMOS sensor and 10fps Capture
Canon Unveils 1D Mark III with 10.1 MP APS-H size CMOS sensor and 10fps Capture
February 21, 2007 – Among today's announcements, Canon augmented its flagship 1D line with the release of the 1D Mark III. Unlike the 1Ds MK II, the MK III packs a smaller, APS-H size CMOS sensor and can capture bursts at an industry-leading 10 frames per second. The newest EOS camera features two dual DIGIC III image processors that purportedly reduces shadow noise by 50%, a new AF system, and a 3-inch LCD with live preview. The MK III is encased in a weather resistant body and includes Canon's EOS Integrated Cleaning System, along with a new sRAW file format that captures smaller 2.5-megapixel lossless RAW files. The 1D Mark III will retail for $3999 when it's released in April.
The 1D Mark III's 10.1-megapixel APS-H size CMOS sensor carries a 1.3x magnification on EF lenses. The new sensor offers 14-bit Analogue-to-Digital conversion that yields a "significant drop in digital and shadow noise," according to Canon's marketing materials.
With two dual DIGIC III processors, the 1D Mark III can capture bursts at 10 frames per second at full resolution. The dual processors enable the camera to take 110 full resolution JPEG images and 30 RAW files at maximum speed that also increases autofocus speed. The 1D MK III is expected to shoot 1.5fps faster than the EOS 1D Mark II N with over twice as many successive images.
The new 45-point autofocus module on the 1D Mark III includes 19 high precision cross-type AF sensors (available with f/2.8 lenses and faster), along with 26 Assist Points. A dedicated processing unit is applied to the AF system. Canon claims this design is up to 3 times faster than previous iterations and sensitive to conditions a full stop darker. Using the camera's AI Servo AF, the camera engages a "highly intelligent predictive focusing algorithm" to track moving subjects and maximize the camera's performance speeds, according to Canon's press materials.
Canon also increased to its scope of customization with the inclusion of manually-adjustable AF points; 1D MK III users will be able to select the size and positioning of the AF points for spot focus and metering.
The newest 1D-series design is the second EOS camera to feature Canon's EOS Integrated Cleaning System. The 1D MK III's cleaning system applies ultrasonic vibrations to the infrared-absorption glass to shake off dust that has reached the sensor. Like the Rebel XTi, the MK III also utilizes a Dust Delete Data feature to digitally remove dust specs with the included software, Digital Photo Professional v3.0.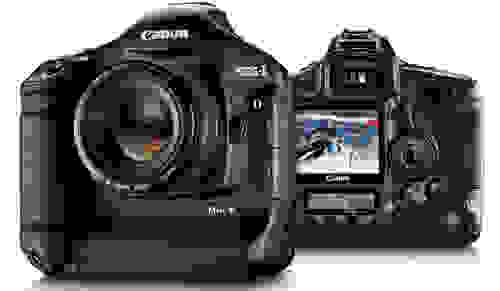 The 6.1 x 6.2 x 3.1-inch, 40.7 oz. 1D Mark III is fitted with a 3-inch LCD that is currently the largest screen applied to a DSLR. Canon's press materials indicated the increased dimensions on the 230,000 pixel display are intended to help facilitate precise manual focusing, when using the camera's live preview.
Canon displayed the engineering know-how to equip a DSLR with live preview in 2005 with the 20Da, a modified version of the EOS 20D, optimized for astrophotography. The live preview on the 1D MK III includes two magnification settings to enlarge the frame 5x and 10x. The live view can be transmitted to a computer or TV set using a USB or video out connection, or it can be sent wirelessly using the optional WTF-E2A transmitter. When using the remote control and wireless transmitter, the live preview-enabled 1D MK III can be controlled entirely via remote.
Also of note, the 1D MK II has a silent mode to minimize mirror noise and a redesigned battery that's 46% lighter and 40% smaller than the NP-3E cell used in previous 1D-series cameras.
The 1D Mark III features a 100-3200 ISO range (expandable to ISO 50–6400), 1/8000 to 30sec. shutter speed range plus a bulb setting (1/300 X-sync speed with EOS Speedlites), 63-zone metering system, +/-3 EV compensation, and depth-of-field preview that is functional when using the live view.
Click here to view Canon 1D Mark III product photo gallery.
Key Features
10.1MP APS-H size CMOS sensor
Dual DIGIC III processors
10fps burst speed (up to 110 full-res JPEG, 30 RAW files)
sRAW file format (2.5-megapixel lossless file)
Live preview
3-inch 230k pixel LCD
Improved autofocus (19 cross-type points with f/2.8 lenses or faster)
Lighter than other 1D-series cameras – has a much smaller battery