Cameras
Canon's New EOS 6D: Full-Frame Gets Smaller, Lighter, and Cheaper
Pitted squarely against Nikon's D600 and Sony's A99, the 6D sets a new, more accessible bar for Canon loyalists to jump on the full-frame bandwagon.
If you thought the onslaught of new full-frame cameras in advance of this year's Photokina show was over, well... think again. Not wanting to be left out, Canon is bringing out the EOS 6D, a smaller and lighter full-frame option designed as a stepping stone for those upgrading from APS-C or compact system cameras.
The 6D is fitted with a brand new 20.2-megapixel sensor and boasts sturdy magnesium alloy construction comparable to the 5D Mark III and 7D, despite being smaller and lighter than either. At just 144.5mm wide by 110.5mm tall by 71.1mm deep, the camera is also smaller than the recently announced Nikon D600 and even the EVF-only Sony SLT-A99, its two most obvious competitors.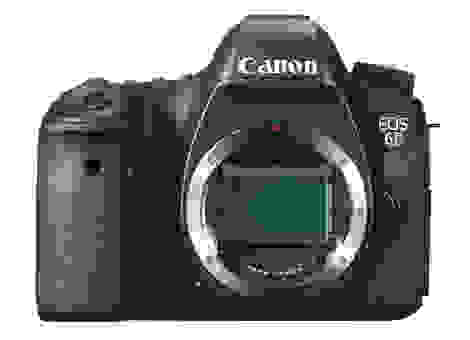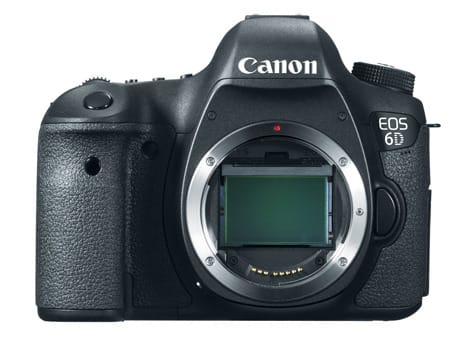 The new imaging sensor is backed up by a single DIGIC V+ processor, which lets the 6D shoot at up to 4.5 frames per second in continuous capture mode. Native ISO sensitivity ranges from 100-25600, and can be expanded to 50 on the low end and 102,400 on the high end. A new autofocus array features 11 points with a central cross-type point. This center point has a very impressive -3 EV sensitivity rating, meaning it should be able to focus reliably in near total darkness. Making use of those points, the optical viewfinder offers 97% scene coverage at 0.71x magnification. The 3-inch LCD, of course, provides perfect 100% coverage when shooting in live view.
The camera comes with the full suite of HD video recording functionality users have come to expect from Canon DSLRs, with the same framerate options as the 5D Mark III. There's an input jack for external microphones, but a headphone jack is not present (something 1D X owners will sympathize with).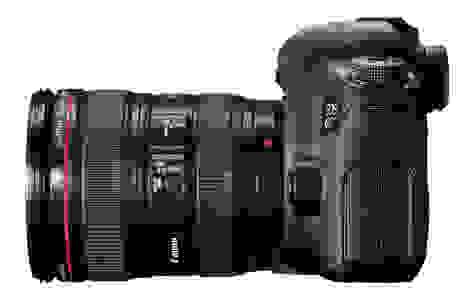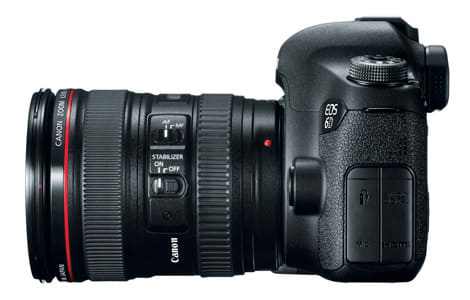 Interestingly, the 6D features built-in wifi and GPS functionality—two features that were conspicuously left out of the flagship 1D X, to many pro photographers' dismay. To see it on this lowly entry-level body might be a bit of a slap in the face to 1D X owners, but newbies will no doubt enjoy it. With the wifi enabled, the 6D can be remotely controlled via iOS or Android apps. It also lets users transfer photos to their smartphone or tablet, or simply review photos and videos without transferring them. The GPS module, meanwhile, includes a logging function that will work with Canon-supplied software to map photo excursions. Data can be exported to Google Maps and other applications, as well.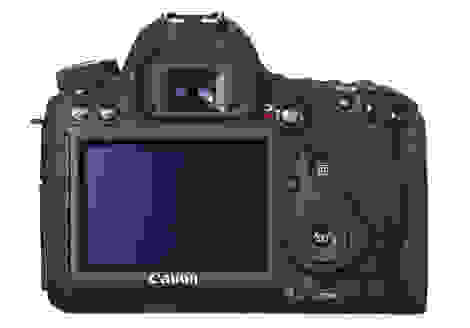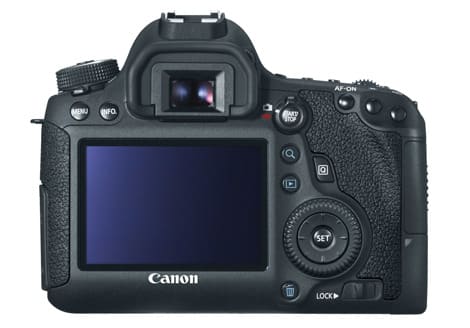 Perhaps unsurprisingly, the EOS 6D is going to hit the market with a MSRP of $2,100, body only—precisely the same price as the newly announced D600, which is vying for the same slice of market-share pie. The camera will also be available in kit form, paired with the very nice 24-105mm f/4L IS USM lens for $2900. Canon says both configurations should be shipping in December of this year.
---
CANON ANNOUNCES ITS SMALLEST AND LIGHTEST FULL-FRAME DIGITAL SLR CAMERA FOR SERIOUS PHOTOGRAPHERS
The EOS 6D Digital SLR Camera Includes a New Full-Frame Sensor, Built-in Wireless and GPS
LAKE SUCCESS, N.Y., September 17, 2012 – Canon U.S.A., Inc., a leader in digital imaging solutions, today introduced the EOS 6D Digital SLR Camera, a versatile mid-range full-frame camera with the durability and performance professionals require and the creative imaging options serious photographers crave. Canon has coupled the incredible image quality of a newly designed 20.2-megapixel full-frame CMOS sensor and DIGIC 5+ Image Processor with the creative potential of built-in wireless transmitter and GPS features. The camera also includes an 11-point AF array and 63-zone dual-layer iFCL metering sensor together with 1080p Full HD video capabilities, in an affordable camera body. Building upon the qualities that made the EOS 5D Mark II camera so successful, the EOS 6D bridges the gap for budget-minded photographers, videographers and cinematographers who are eager to step up into the world of full-frame imaging.
"The introduction of this camera completes a well-rounded ecosystem from input through output for Canon, allowing us to provide the right combination of features for every level of photographer. We believe the EOS 6D Digital SLR Camera along with our new PIXMA Pro printers will help unlock the creative vision of so many who aspire to capture and display their artistic abilities," stated Yuichi Ishizuka, executive vice president and general manager, Imaging Technologies & Communications Group, Canon U.S.A.
Designed for advanced amateurs and videographers making the move to a full-frame Digital SLR, the EOS 6D fits neatly into Canon's professional imaging system with an advanced feature set including full manual options for creative control in addition to new and intuitive automatic settings to help even novice photographers capture great images. The camera's construction helps meet the needs of professionals with a 100,000-cycle shutter durability and EOS Integrated Cleaning System for high-quality vibration-based dust removal. Among the many advancements in Canon's new EOS 6D is the Company's proprietary DIGIC 5+ Image Processor that powers the camera's fast 14-bit analog-to-digital conversion for exceptionally smooth color tones and gradation. The camera offers a full-frame, 20.2-megapixel CMOS sensor and continuous shooting up to 4.5 frames per second (fps).
Thanks to the combination of its new CMOS image sensor and the powerful DIGIC 5+ image processor, the EOS 6D provides a wide ISO range from 100-25600 with a low setting, L: 50 and two high settings, H1: 51200 and H2: 102400. These outstanding low-light capabilities allow the EOS 6D to easily capture dimly lit scenes such as wedding ceremonies, indoor corporate events, or landscapes at dusk. To support the ample sensitivity of the new camera's sensor, the EOS 6D camera's Auto Focus (AF) system includes a newly-developed 11-point AF sensor featuring a high-precision center cross-type point with an exceptional EV -3 sensitivity rating for accurate focusing even in extremely low-light conditions.
The EOS 6D has a large 3.0-inch Clear View LCD monitor with 1,040,000 dot VGA resolution and 170 degree viewing angle, with high-transparency multicoating for maximum protection and clarity when viewing images or navigating menu screens. When used for Live View shooting, the camera's bright high-performance LCD screen provides 100 percent coverage, for easy focusing and framing.
Full-Frame 1080p Full HD Video

Videographers, student filmmakers, and creative independent spirits will appreciate the full-frame video capabilities of the EOS 6D in an affordable and compact body. Borrowing from the best of the EOS 5D-series, the EOS 6D provides full manual control over exposure and audio levels while recording video. The camera features NTSC and PAL video modes at multiple frame rates, recording 1080p at 30 (29.97), 24 (23.976) and 25 fps, 720p at 60 (59.94) and 50 fps and standard video at 30 (29.97) and 25 fps. The camera provides up to 29 minutes and 59 seconds of continuous recording (with 4GB automatic file partitioning) in selectable All i-frame or IPB compressions with embedded timecode. Especially when used with large aperture lenses, the EOS 6D camera's full-frame sensor offers a tremendous degree of creative control over depth-of-field, helping users to achieve pro-quality cinematic effects in Full HD video recordings.
Built-in Wi-Fi and GPS

For the ultimate in DSLR connectivity and control, the EOS 6D features a built-in wireless transmitter which allows the camera to share images and video with the user's choice of wireless devices such as select PowerShot cameras, smartphones, or tablets, as well as cloud-based destinations including social networking sites through the Canon iMAGE GATEWAY. A very intuitive and useful wireless feature is the new, free Canon EOS Remote app available for iOS and Android systems which will allow a smartphone or wireless device such as a tablet to remotely connect, control and operate the connected EOS 6D. This seamless connection and control will open new opportunities for professional photographers shooting weddings or remote wildlife, without the need for tethered operation or accessories.
For on-location shooters, landscape photographers or enthusiast photo travelers, the EOS 6D features a built-in GPS receiver to record longitude, latitude, elevation and Coordinated Universal Time (UTC) as EXIF data for seamless geo-tagging while shooting. The GPS coordinates are appended to each image and easily syncs with Canon software or mapping apps on social network sites to show image locations. Use of UTC data allows images to be chronologically mapped and trails plotted and recorded.
Boundless Creativity

To help photographers unlock their full creative potential and explore all the different avenues of digital photography, the EOS 6D includes several creative modes for image capture. First is the HDR (High Dynamic Range) mode allowing the camera to capture three separate exposures and combine them in-camera for a stunning image capturing both enhanced shadow detail and bright highlights. Next is the camera's Multiple Exposure mode where users can combine up to nine individual images into a single composite image, with no need for later computer post-processing. Four different compositing methods are provided for maximum creative control, including Additive, Average, Bright and Dark. Compositing results can be viewed in real time on the camera's LCD monitor, and there is a one-step Undo command that allows photographers to delete an image and try again if desired. The EOS 6D will even allow photographers to specify a previously captured RAW image as the starting point for a new Multiple Exposure composite image. In addition to HDR and Multiple Exposure modes are Canon's standard Scene Intelligent Auto and special scene modes to capture great images with ease. The camera is compatible with SD, SDHC, and SDXC memory cards including the new Ultra High Speed (UHS-I) cards.
Pricing and Availability

The EOS 6D Digital SLR Camera will be sold in a body-only configuration at an estimated retail price of $2,099.00 and it will additionally be offered in a kit version with Canon's EF 24-105mm f/4L IS USM zoom lens at an estimated retail price of $2,899.00. Both configurations are expected to be available in December 2012.
About Canon U.S.A., Inc.

Canon U.S.A., Inc., is a leading provider of consumer, business-to-business, and industrial digital imaging solutions. With approximately $45.6 billion in global revenue, its parent company, Canon Inc. (NYSE:CAJ), ranks third overall in U.S. patents registered in 2011 and is one of Fortune Magazine's World's Most Admired Companies in 2012. In 2012, for the ninth consecutive year, Canon U.S.A. has received the PCMag.com Readers Choice Award for Service and Reliability. Committed to the highest level of customer satisfaction and loyalty, Canon U.S.A. provides 100 percent U.S.-based consumer service and support for all of the products it distributes. Canon U.S.A. is dedicated to its Kyosei philosophy of social and environmental responsibility. To keep apprised of the latest news from Canon U.S.A., sign up for the Company's RSS news feed by visiting www.usa.canon.com/rss.