June 9, 2005 – Casio announced the Exilim EX-S500 today, adding the 5.0 megapixel ultra-thin camera to their list of sleek card-sized offerings. The S500 includes advanced video capture capabilities and Anti-Shake technology along with a 3x optical zoom lens and a 2.2-inch LCD screen within its slight 16.1mm stainless steel "electrically coated" casing. The EX-S500 spans 3.5 x 2.3 x 0.6 inches and weights just 4.05 oz. without batteries or media.
According to John Clough, President of Casio, Inc., "The EX-S500, which is available in fashionable white, orange and gray colors incorporates Casio's heralded EXILIM Engine along with advanced MPEG4 quality movie capabilities and anti-blur technology - all in a digital camera that's barely the size of a credit card."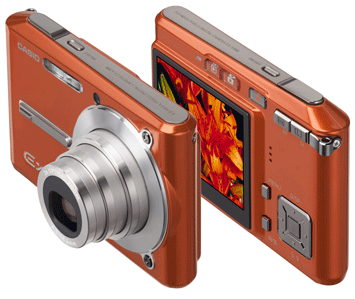 The Exilim EX-S500 relies on a 1/2.5-inch 5 MP CCD and 3x optical zoom lens (equivalent to 38-114mm in 35mm format) to capture still images and video clips. The camera includes 8.3MB of internal memory and can accept additional SD cards up to 1GB. The slight body includes a large 2.2" TFT LCD screen for viewing, but is only composed of 84,960 pixels.
Marketed as a hybrid imager, the EX-S500 can record MPEG-4 video at VGA (640 x 480) quality, shooting at a rate of 30 frames per second. When a 1GB SD memory card is used, the S500 can capture up to 1 hr and 20 minutes of continuous video with monaural audio in "Normal" mode.
"In a market where manufacturers are selling disposable camcorders because of their portable travel appeal, the S500 is the perfect icon for permanent multi-functionality exhibiting a re-useable "best of class technology" as an affordable business, leisure and fashion accessory," said Clough.
In line with all other Exilim models, the EX-S500 relies on an Exilim Engine Image processor to increase performance speeds while reducing power consumption; the included rechargeable lithium ion battery is advertised as attaining roughly 200 shots per charge. According to Casio, the Exilim Engine processing module also effectively reduces start-up and shot to shot times by to 1 second, while shutter lag is dropped to just .008 seconds after the shutter is depressed. The updated Exilim Engine in the EX-S500 also includes an Anti-Shake Digital Signal Processor that is designed to reduce the blurring caused by hand motion and camera shake.
In terms of settings, the S500 includes both fully automatic and manual white balance functions along with 6 preset options. The sensitivity on the S500 spans from ISO 50 to 400, with 100 and 200 options in between. Casio included an extensive list of 33 preset modes for point-and-shooters, accessible with the one-touch "BESTSHOT" setting. The S500 also offers a series of settings and modes to optimize video capture including a "Past Movie" mode, and a "Motion Print" function that enables users to extract still images from previously recorded videos. Engaged videographers can also alter captured video within the camera using the "movie editing" function. The camera comes packaged with Windows Media® Player 9 and Ulead Movie Wizard SE VCD, two programs that are both designed specifically for video editing.
The camera includes a high speed USB 2.0 port and is PictBridge compliant. A cradle comes packaged with the camera as well. The EX-S500 and its accoutrements are expected to ship in late July or August, retailing for $399 (USD).