Cameras
Casio Adds Digital "Makeup" in Two Cameras
Casio today introduced three new cameras, two of which incorporate a new processing module called EXILIM Engine 3.0.
August 20, 2008 - Casio today introduced three compact cameras, two of which incorporate a new processing module called EXILIM Engine 3.0. In addition to enhanced lighting compensation and anti-shake functions, the new engine enables a feature called "Makeup" that smoothes skin and softens shadows in portrait shots. As the photographer adjusts the strength of the effect, the result is shown live on the LCD display. The three cameras, with prices ranging from $179.99 to $299.99, will be available in October.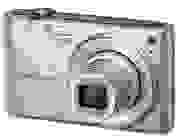 The two higher-end cameras, which include the EXILIM Engine 3.0 processor, are the Zoom EX-Z300 (shown here) and the Zoom EX-Z250. Both feature 4x zoom lenses (28mm - 112mm equivalent) , sensor-shift image stabilization and 3-inch, 230,000 pixel LCD screens. The EX-Z300 offers slightly higher resolution (10.1 megapixels versus 9.1 for the EX-Z250) and shoots video at 1280 x 720 resolution, while the EX-Z250 movie mode tops out at 848 x 480. The EX-Z300 also includes a multiple-exposure feature that combines several images of a moving subject in a single photo. The EX-Z300 measures 3.81" x 2.27" x .91", weighs 4.62 oz. and will be available in silver, black and pink for $299.99. The EX-Z250, at 3.81" x 2.26" x .78" and weighing in at 4.2 oz., will come in silver and black, priced at $249.99.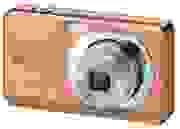 Also included in today's announcement was the EX-Z85, a slimmer 9.1-megapixel model with 3x zoom (38mm - 114mm equivalent) and a 2.6-inch display. In addition to face recognition and smile detection, the EX-Z85 offers a mode that holds off on taking a photo until the camera detects that camera shake has stopped or a moving subject paused. The EX-Z85 measures 3.53" x 2.04" x .75" and weighs 3.53 oz. It will be available in brown and orange, priced at $179.99.