April 5, 2006 - Casio Computer, Inc. has released firmware upgrades for the Exilim EX-S600 and EX-Z500, to allow the user to fix keystoning in images with in-camera post-processing. Casio has included similar features in previous cameras. The Z500 upgrade is available at http://world.casio.com/qv/download/en/ex_z500_firmup/ and the S600 upgrade is at http://world.casio.com/qv/download/en/ex_s600_firmup/.
The upgrade is available for EX-S600 and EX-Z500 cameras with firmware version 1.00, but not for any other version. Casio doesn't say if there are other firmware versions out there, but the site explains how to check the software version on the cameras. The upgrade installs firmware 1.01.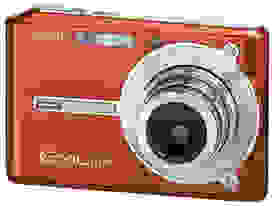 Like other keystone correction functions on Casio cameras, the upgrade detects trapezoids in a saved image, and gives the user the option of selecting one for correction. It's not possible to control the amount of correction manually, beyond accepting or canceling the function. The cameras leave the original image intact, and save a corrected 1600 x 1200-pixel version. (If the original was shot that resolution or smaller, the new corrected image is saved one size smaller than the original.)
Oddly, the firmware upgrade kills the camera's Russian language display capability, leaving English, French, German, Spanish, Italian, Portuguese, Japanese, Chinese and Korean options for menus and alerts.