January 30, 2005 – Casio announced the 5-megapixel EX-P505 today, a digital camera made for intermediate photographers. The shape of the camera is interesting with a large 5x optical zoom lens on the right and a large grip on the left. The entire back of the P505 is a 2-inch LCD screen that flips outward and rotates similar to a camcorder's monitor. The shapely camera will retail for $499.99 when it becomes available at the end of February.
The Casio EX-P505 has several shooting options, including, an automatic Snapshot Mode, scene modes, priority modes, and manual mode. There are manual and automatic options for just about every function. The white balance mode has seven presets as well as a custom setting. The ISO sensitivity can be automatically adjusted or manually selected from 50-400. The 5x optical zoom lens allows for manual focusing, but only through a sliding bar on the LCD screen.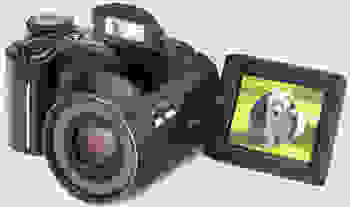 Equivalent to a 38-190mm lens in 35mm photography, the zoom lens also has an additional 8x digital zoom. In the camera's macro mode, the lens can focus as close as 1cm. The Casio EX-P505 comes with a lens hood and a lens cap that can be tethered to the camera body. The main portion of the camera has bulky dimensions of 3.9 x 2.2 x 2.9, excluding the many protrusions. With the lens extended, flash popped up, and the LCD screen flipped out, the 7.6-ounce P505 looks like an opened Swiss Army Knife. Despite the look, the flipping features can come in handy for framing self-portraits in the 84,960-pixel LCD monitor.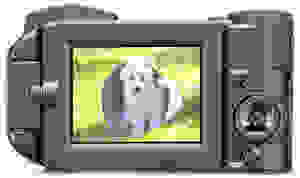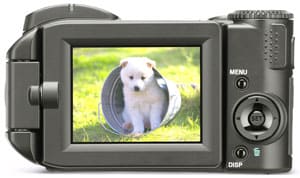 Perhaps one of the Casio EX-P505's strongest features is its movie mode. It can shoot in 640 x 480 or 320 x 240 resolution at 30 and 15 frames per second, respectively. The P505 records audio and can even play it back with its built-in speaker. While those features can be found on other digital camera models, the P505 contains a unique Past Movie Mode feature. This mode records five seconds prior to the user pressing the shutter release button and continues to record until the button is pressed again, so users never miss that golden moment. To round out the movie mode, there is a movie print option that allows users to select individual frames for printing.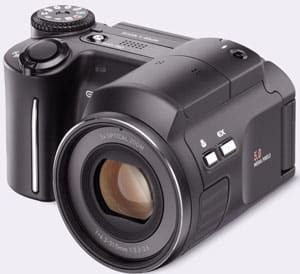 The Casio EX-P505 has 5.25 megapixels on its 1/2.5-inch CCD; 5 of those megapixels are effective in recording still images. The camera has six still image sizes to choose from, including size ratios of 4:3 and 3:2. There is an SD/MMC slot on the camera, with an additional 7.5 MB internal memory. Overall, the Casio EX-P505 has versatile shooting modes with a nice 5x optical zoom lens and one of the most extensive movie modes available.