Cameras
Casio Announces Snorkel Housing for Two EXILIM Cameras
Casio announced snorkel housing for two cameras in the EXILIM Zoom series.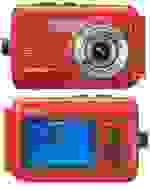 April 5, 2007 - Casio this week announced a new snorkel housing for two of its compact digital cameras – the EX-Z75 and EX-Z65, the newest additions to the EXILIM Zoom series.
The EXILIM snorkel housing can go up to about 10 feet under water. The red housing comes with waterproof control keys to allow full functionality of the camera.
For more information, visit exilim.de/euro or casio-europe.com.