November 11, 2004 — Casio announced the latest in its Exilim line of digital cameras, the Casio Exilim Pro Ex-P700. This camera packs 7.2 megapixels with its 4x optical zoom lens for a retail price of $599.99. The P700 has the potential to attract a large audience with its 7.88-ounce stainless steel body, world timing system, and ease of use.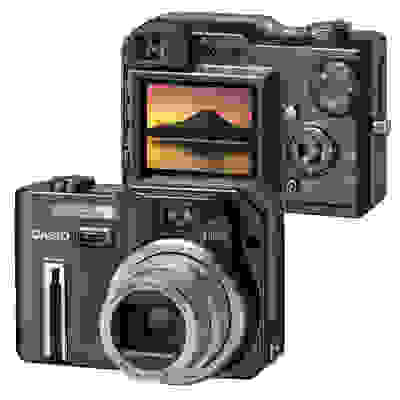 "Casio's new Ex-P700 digital truly closes the performance and usability gap between conventional compact cameras and full-sized models," said John Clough, the president of Casio Inc. "The Ex-P700 represents the best of both worlds in the realm of digital photography."
Entry-level users will appreciate the large 2-inch LCD screen, innovative automatic modes, and the help icons scattered throughout the menus. The LCD screen has 115,200 pixels under its scratch-resistant acrylic surface. The Casio Exilim Pro Ex-P700 has several scene modes: Business shot, Auto macro, Movie, Macro, and Best shot. The business shot is a new feature which automatically straightens distorted pictures. Help icons pop up throughout the menus to guide the user through setup changes.
The P700 also appeals to the true photography enthusiasts with travel-friendly features, quick response time, and advanced image reduction. This model lets the user select a city from its list of world cities; then the camera automatically adjusts time and date settings. The P700 also has an alarm clock that sounds an electronic alarm or a voice message. A full month calendar can appear on the screen with thumbnails of the first image taken on each day. This Casio camera starts up to take its first shot in 2 seconds and has a shutter lag of .01 seconds, allowing the P700 to shoot 3 frames per second.
The 8.9MB of internal memory provides a small amount of storage; luckily, there's a slot for an SD/ MMC card. The Casio Exilim Pro Ex-P700 will be available in January 2005.