Cameras
Casio Has New Tryx Up Its Sleeve
Though most of Casio's 2011 CES announcements are unspectacular, the company is rolling the dice with one risky new design innovation: the new Tryx digital camera.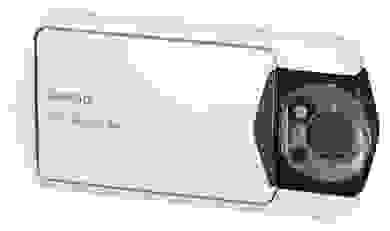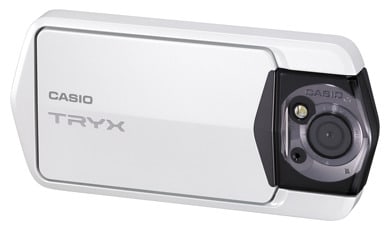 Though most of Casio's 2011 CES announcements are unspectacular, the company is rolling the dice with one risky new design innovation: the new Tryx digital camera. We can't decide whether the "variable frame" design is cool or bizarre, but it certainly opens up a lot of shooting options previously unavailable to digital camera consumers.
The main body of the camera is nestled within a rotating frame, with separate rotating elements for the lens and the LCD. This lets you swing the LCD around for easy self-portraiture, flip the LCD out for a camcorder-like form factor, or even prop the camera up like a strange little tripod. If you're so inclined, the frame can serve as a means to hang the camera; Casio suggests using a hook or doorknob, but we think the Tryx would make a pretty sick necklace.
There's really no way to describe the Tryx in words, so it's best that you just check out our photo gallery below. The Casio Tryx will be available in April 2011 for an MSRP of $249.99.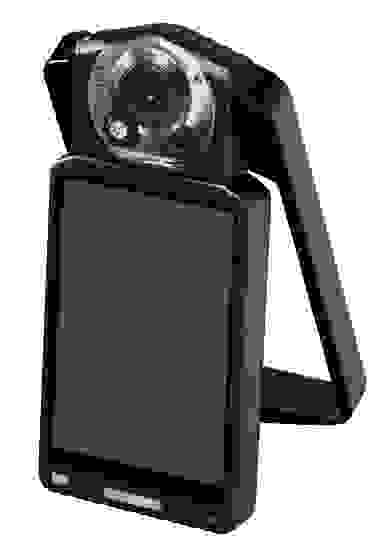 ** ** *
LAS VEGAS, NV, January 5, 2011 – Casio America, Inc. and its parent company, Casio Computer Co., Ltd., today unveiled TRYX®, a revolutionary new camera that will allow consumers to stand out and be noticed. Strikingly different than any other camera or camcorder on the market today, TRYX impresses with a distinctive, variable frame design which knows no bounds. With TRYX, consumers can do more and be prepared to capture their photographic lives in ways they were never able to before.
"TRYX truly is a remarkable camera and its announcement is a defining moment for Casio," said Toshi Iguchi, Senior General Manager, Digital Imaging Division, Casio America Inc. "Unlike anything the industry has ever seen, TRYX brings unparalleled innovation and versatility straight to consumers' hands with a radical new design. This is a camera which was designed specifically to meet the needs of the creative and connected consumer, looking for a unique digital imaging experience and a camera to compliment their lifestyle and personality."
Tricked-Out Design

Thanks to its super thin (.59-inches thick), variable frame design, TRYX can adapt to fit the user's preferred shooting style or to help them capture an image from just about any angle or in any environment. Users can hold the camera horizontally, in a traditional point-and-shoot style to capture still images or flip out the rotating, three-inch, touch-screen LCD and swivel the body to experience countless other positions. The frame rotates 360-degrees and can be adjusted so that the body can act as a tripod, allowing TRYX to stand on its own, or the LCD screen can be rotated up to 270-degrees so that users can perfect their own self portrait and see themselves in the frame. Users can even flip out and rotate the body so that the camera can hang from a hook, doorknob or other surface. The Casio TRYX's body can also be adjusted so that users can record full-HD, 1080 video (30fps) with the traditional feel of a dedicated camcorder, either in a left or right-handed grip or use it vertically, like a pocket camcorder.
High-Speed and High-Performance

In addition to its good looks, the Casio TRYX also boasts an equally impressive feature set. At the heart of the camera is a 12.1 megapixel back-illuminated CMOS sensor which will help capture stunning images thanks to its enhanced sensitivity and low-light performance. The TRYX's CMOS sensor is also coupled with dual core processors as well as Casio's state of the art EXILIM® ENGINE HS, which add significant processing speed and enhance the overall imaging experience. Together, they power many of the camera's unique creative functions, including High Dynamic Range (HDR) imaging, High-Speed SR Zoom, and slow motion video.
Expressing One's Creativity

TRYX is fully-loaded and packed to the brim with a full range of functions, such as Slide Panorama and slow-motion video recording, which users can take advantage of to boost their creativity and truly express themselves through images. With Slide Panorama, users can effortlessly capture 360-degree panoramic images, and with slow-motion video, users can record events that are ordinarily too fast for the eye to see, at speeds up to 240 fps (432x320). TRYX also incorporates Casio's revolutionary HDR-ART technology, which gives users the ability to effortlessly transform any photo from ordinary to extraordinary, all with just the touch of a button. HDR-ART works by combining continuous shots with differing exposures and performing highly-precise image analysis to locally change the contrast and level of color saturation. Users can select from three different processing levels to suit their artistic tastes and produce results that are guaranteed to impress.
To read the rest of this press release, please visit http://www.casio.com/news.
{:{PhotoGallery article.attachments}:}