*January 30, 2007 *– Along with the new high zoom Z1050, Casio introduced the EX-Z75 zoom point-and-shoot today. The 7.2-megapixel camera carries a redesigned LCD screen with a new information display. It has a suggested retail price of $229.99 when it debuts in March. 
Like its older sibling, the Z70 that was introduced in August, the new Casio Z75 possesses a 7.2-megapixel count, 3x optical zoom, and anti-shake DSP capabilities to compensate for hand shake and moving subjects.
The Z75 now includes an improved 2.6-inch, 114,960 pixel wide LCD display, which is a slightly larger screen over the 2.5-inch screen on last year's model. The new screen is capable of wide 14:9 viewing.
The Casio EX-Z75 also includes new display information while shooting. Users can view setting information such as flash and image size on the right side of the screen, which is separate from the image to make quick setting changes.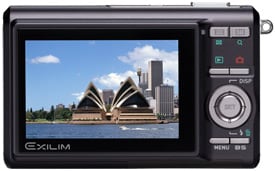 The Casio EX- Z75 includes an automatic EasyMode feature for beginners and has a movie mode of 640 x 480 at 30fps. The camera accepts Li-ion batteries and is compatible with SD, SDHC, and MMC media. The Casio Exilim EX-Z75 is available in pink, blue, black, and silver.
**Features:

**- 7.2-megapixel count
New 2.6 inch LCD for 14:9 viewing

Setting Information on Display

Anti-shake DSP