Cameras
Casio Gets Tough With The EX-G1
Casio America today announced the EXILIM EX-G1, a 12.1-megapixel compact camera that withstands water to 10-foot depths, temperatures down to 14° F, and falls from a 7-foot height.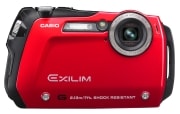 November 18, 2009 – Casio America today announced the EXILIM EX-G1, the first in a promised line of "endurance" cameras, combining waterproof, freezeproof and shockproof performance in a relatively slim 0.78-inch (19.8mm) deep body.
Casio promises waterproof performance down to 10 feet (2.3m), and resistance to sprayed water from any angle, corresponding to IEC/JIS Protection Class 8 (IPX8), along with IP6X dustproofing. Resistance to cold is offered down to a chilly 14° F (-10° C), which the company says is the practical limit for today's LCD technology. The camera has also been successfully drop tested from a height of 7 feet (2.13m).
The EX-G1 features a non-extending 3x optical zoom lens (38-114mm equivalent), with a maximum f/3.9 aperture. ISO settings range from 64-3200, with shutter speeds from ½ second to 1/1250 second (extended to 4 seconds in night scene mode). There is no image stabilization feature.
The camera is designed to take abuse, with a polycarbonate body reinforced with fiberglass and a stainless steel outer shell. There's a rotating lock to keep the memory card compartment sealed. In an unusual move, the EX-G1 uses microSD and microSDHC cards instead of the more common SD/SDHC card format.
The 2.5-inch, 230,00-dot LCD is protected with an acrylic plate that Casio says is 1.5x as thick as conventional digital cameras, with a resin mount to aid shock resistance.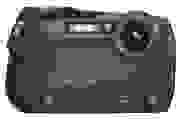 In addition to stills, the EX-G1 can take Motion JPEG movies, though the maximum resolution is limited to 848 x 480 in wide format and 640 x 480 in standard definition mode, both at 30 fps with mono audio. An interesting movie option is the interval shooting mode, which will shoot a single frame at 10 second, 30 second, 1 minute or 3 minute intervals to create a time-lapse movie. Interval still shooting is also supported.
Another potentially useful shooting option is the underwater mode, which reduces red and green levels to produce a clearer image while submerged.
The Casio EXLIM EX-G1 will be available in black and red when it ships in early December, priced at $299.99.