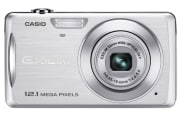 August 31, 2009 – Today Casio announced two inexpensive additions to its EXILIM line, the 12.1-megapixel EX-Z280 priced at $179.99 and the 10.1-megapixel EX-Z33, at $119.99.
The EX-Z280 provides a 4x optical zoom lens starting at a wide 26mm. It takes 720p high-definition video shooting, and also includes a YouTube mode for shooting clips optimized for online sharing. For those who want to add movement to their still photos, there's a Dynamic Photo function that adds animated graphics to photos, and allows a moving subject to be cut-and-pasted into another background. The results can then be saved as a movie file and sent as a digital greeting card.
The EX-Z280 has a 3x optical zoom and, while it does not shoot high-def video, it does have a standard-def 16:9 option to fill a wide-screen TV display. The notably thin camera, measuring 0.71 inches deep (18.1mm), will come in black, light pink, vivid pink, silver and blue.
Both newly announced cameras will ship in September.