Cameras
Casio Launches V7-dedicated Website
Read about Casio's newly launched website for consumers of the Exilim EX-V7 digital camera.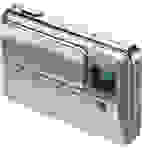 April 25, 2007 – Casio, in conjunction with iNDELIBLE Media Corp., last week launched a new microsite for the Exilim EX-V7 camera. The website includes explanations and informational videos of the camera's features such as its CCD shifting image stabilization and movie capabilities.
Serving as "an education and information hub," according to an April 18 company press release, the Casio V7 website includes sections on camera design, sharing, and videos.
"We are excited about the launch of the EX-V7 and wanted to create an online learning center to introduce the camera in a consumer-friendly way," said Casio Vice President Bill Heuer of the Digital Imaging Division in the release.
The Casio V7 is a 7.2-megapixel, 7x optical zoom camera. Click here to visit the site.