Cameras
Casio Launches Z1080 with YouTube Capture
The Casio Z1080 features increased ISO sensitivity and the recently announced YouTube Capture mode.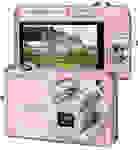 August 28, 2007 – Casio today announced the Exilim EX-Z1080, the successor to the 10.1-megapixel Z1050. Part of the company's Zoom series, the Z1080 features increased ISO sensitivity and a YouTube Capture mode. The Casio EX-Z1080 will retail for $279.99 when it is released in September.
The Exilim EX-Z1080 retains the 10.1-megapixel count and a 3x optical zoom lens from the earlier Z1050, introduced in January. Also in common is the 2.6-inch, 114,960-pixel LCD monitor with 14:9 wide viewing.
While Casio kept the basic specifications the same on the Z1080, there are a few new features. 
"Each year we strive to make advancements in our popular EXILIM digital cameras," said Bill Heuer, Casio vice president of sales of the Digital Imaging Division, in a company press release. "These models are no exception, as they blend many of the standard features EXILIM cameras are known for, with groundbreaking new technology such as YouTube Capture Mode, and the EXILIM Engine 2.0 high performance image processing module. If you ever needed an excuse to shoot photos and videos of friends or family these EXILIM cameras are it!"
The YouTube Capture mode was introduced last month on the Casio S880 and Z77. Similar to Casio's eBay mode, the YouTube function captures at a smaller file size so users can easily upload movie clips to the Web. The camera comes with YouTube Uploader for Casio software that enables users to upload to the site in just two steps, according to the release. Users have the option to record movies at 848 x 480 wide, standard 640 x 480, or 320 x 240 LP resolution.
The Casio EX-Z1080 has an upgraded ISO sensitivity. Whereas the Z1050 had a maximum sensitivity of 1600 ISO, the Z1080 is capable of a 6400 ISO maximum in High Sensitivity mode to reduce blur caused by camera shake or moving subjects.
The Casio Z1080 has an Exilim Engine 2.0 image processor that uses four methods to reduce blur: motion analysis technology, Anti Shake DSP, mechanical image stabilization, and electronic image stabilization in the Movie mode. The Z1080 has a 7-frame-per-second burst rate (at a lower 2-megapixel resolution). It will be available black, gray, blue, and pink.