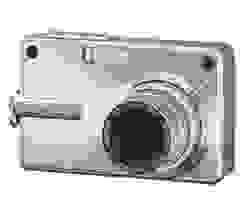 February 14, 2005 — Complete with 5 effective megapixels and a full list of shooting modes, the Pentax Optio S5n was announced yesterday. The S-series Pentax has all the characteristics typical of the line: a stylish and compact form, larger LCD screen, internal memory, and lots of options. The S5n will be available in March for £249.99 or about $472 USD.
The Pentax Optio S5n is constructed with aluminum, and has some rubber panels on the back for gripping. The body measures 3.3 x 2 x 0.8 inches and weighs a mere 4.2 ounces with the battery and SD card included. The S5n is powered by an included rechargeable battery. The package also comes with a camera dock that recharges the battery. Like most S-series Pentax cameras, the S5n has 9.3 MB of internal memory.
A 2-inch LCD screen with 110,000 pixels of resolution highlights the back of the camera. There is no optical viewfinder on the Pentax S5n. The 3x optical zoom lens extends from the camera in three segments. The 35.6-107mm equivalent lens has an additional 4x digital zoom and can focus as close as 0.2 feet in the Super Macro mode.
A long list of scene modes graces the menu of the Pentax S5n: Green (this is Casio's fully automatic mode), Program, Night Scene, Movie, Panorama Assist, Landscape, Flower, Portrait, Self-Portrait, Sunset, Food, Pet, Text, Sport, and Surf & Snow. There are also eight different digital color filters and adjustments for brightness, sharpness, saturation, and contrast.
The Pentax Optio S5n has nine white balance options, exposure compensation settings, and a shutter speed range from 4-1/2000th of a second. With those and selectable ISO speeds from 80-400, this Optio model offers a fairly wide range of options for a compact digital camera. It also has a VGA movie mode that shoots 30 frames per second to the capacity of the memory card. In the movie mode, users can also save individual frames as still images.