August 8, 2006 – Today, Casio Inc. introduced the Exilim Zoom EX-Z700, one of two new zoom point-and-shoots in the Exilim Z-series. The 7.2-megapixel, 3x optical zoom camera is priced at $299.99 and will be available in September.
Launched today with two other cameras (Zoom Z-70 and the Card-S770), the Exilim Z700 ranks as Casio's middle-tier camera. Following the Z750, the new EX-Z700 has an equal megapixel count but a larger 2.7-inch LCD screen for $60 less than the previous model. The Super Bright TFT LCD has a pixel count of 153,000. The camera also includes an anti-shake DSP.
The Casio EX-Z700 has two new best shot modes out of 37 shooting modes. The auto framing best shot mode can automatically track moving objects such as children and pets, by providing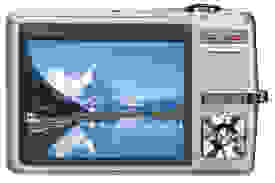 an outline of the moving subject, according to today's press release. The camera also has a new layout shot mode that can splice multiple pictures into a photo collage.
Other shooting functions include a macro mode and an eBay best shot mode to convert high resolution images to 800KB for web posting. The Z700 also has movie capabilities at 640x480 pixels at 30 fps. The camera promises to deliver a maximum of 460 images on a single charge of Li battery, according to the release.
The Casio Zoom EX-Z700 will be available in blue, silver, and gray.