Cameras
CES Digital Photo Frame Round Up
Las Vegas, Jan. 7,2008 – Digital frames can be found around every corner here at the International Consumer Electronics Show (CES), offering new features and improvements. Common themes here include Wi-Fi, Bluetooth, frame-to-frame sharing, and extra-la
Jan. 7,2008 – Digital frames can be found around every corner here at the International Consumer Electronics Show (CES), offering new features and improvements. Common themes include Wi-Fi, Bluetooth, frame-to-frame sharing, and extra-large screens. Here are the highlights.
Ality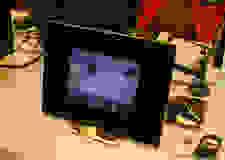 Wireless PIXXA – Announced at the end of December but on display at CES, the Wireless PIXXA is an 8-inch, Wi-Fi-enabled digital frame with an innovative new sharing option. Users can send photos from a computer to a frame, or from frame to frame, using Ality's new Photo Messenger, which works like an instant messenger service. Using the touch screen, users can drag and drop photos to send to friends, and can add a message to each batch of photos.
"It works a lot more efficiently [than other Wi-Fi digital photo frames],' said William Wong, founder and CEO of Ality. "With the instant messenger, friends get photos in one second."
Users can also sync the frame to online-sharing sites Flickr and Picasa, and can access Google Calendar via the digital frame's screen. News, weather, and sports can be streamed across the frame's LCD, and , of course, it also displays your favorite pictures. The Wireless PIXXA has 128MB internal memory, features a rechargeable battery, and supports CF/SD/MMC/MS/xD media. It will retail for $299 when it's released in March.
Smartparts

SP3200 – Smartparts is releasing the world's-largest digital photo frame, the 32-inch SP3200 set to retail for $899 when it becomes available in March. The widescreen frame looks more like a television, and features a 16:9 aspect ratio and displays photos in high definition, 1366 x 768 resolution. The frame can also play MPEG, MPEG-1, MPEG-2, MPEG-4, WMA, and AVI files, and can be operated via buttons on the screen or a remote control. It features 256 MB of internal memory and is compatible with a variety of memory cards.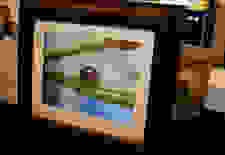 SP8PRT – This 8-inch frame, shown at right, is the first and only current model with a built-in photo printer. The printer sits behind the 800 x 480-resolution screen, and can print 36 4 x 6-inch photos with each dye cartridge. The frame also plays back WMA and AVI video files with sound, and accepts most memory cards. "The SP8PRT offers consumers the best of both worlds," said Stefan Guelpen, president and co-founder of Smartparts. The frame will retail for $279.
**JOBO

***Photo Display PDJ151* - This large, 15-inch frame features 1GB of internal memory, allowing up to 4,000 images to be stored without a memory card. The frame features a 1024 x 768-pixel resolution with a contrast ratio of 400:1. It has a USB port and is compatible with all popular memory cards, including CF, SD, MMC, MS, and xD. It can be mounted on a wall and also features a remote control. The frame is currently available for $359.

**
Kodak**
Kodak isn't launching a new digital frame at CES, but it is touting its newest feature: PictureMail. The firmware update, available for free from Kodak's website for all Kodak Wi-Fi frames, allows users to send photos directly to a frame from a computer or frame to frame. Users receive photos like an e-mail directly on the frame, and messages can be attached to sent photos.
Ceiva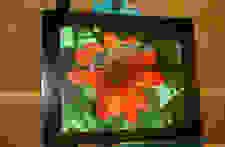 CEIVA Pro190 – This 19-inch, wall-mountable frame features a 1280 x 1024 display and remote control. It features a simple design because "when you go that big, it has to be simple," said Daryl Joslin, VP of marketing for Ceiva. It has Wi-Fi technology, allowing photos to be transferred directly between computers and the frame or from frame to frame. Additional PicturePlan fees of $9.95 per month are required to receive photos, but the 190 is also compatible with SD, SDHC, xD, and MS cards for users who don't want to connect to the Internet. It comes with a remote control and will retail for $399 and up, depending on the retailer, when it becomes available in July.
CEIVA Pro80 - This 8-inch frame has interchangeable faceplates to match your décor, and allows for both Wi-Fi and phone connectivity. It features an 800 x 600-resolution display and can receive photos sent from cell phone cameras. It's also compatible with SD, SDHC, xD, and MS memory cards. It will retail for $229.99 when it becomes available April 1.
CEIVA Share – "This is grandma's frame," Joslin said. A return of one of Ceiva's earliest frames, the Share is its easy-to-use model, connected via a phone line. As on all Ceiva digital photo frames, pictures are updated automatically overnight, and an easy two-button navigation system is user-friendly. It features an 8-inch frame, and is available for $149.99 with a year of PicturePlan membership.
ViewSonic


ViewSonic enters the digital photo frame market this year with three models. The DP701W4WH is a 7-inch frame that supports 10-megapixel photo format and has 800 x 480 resolution.
The DF88W-523 is a widescreen 8-inch frame that supports up to 12-megapixel photo format, and the DF87G-533 is an 8-inch frame with 4:3 aspect ratio, supporting up to 16-megapixel photo format.
All three have a USB ports for transfer from a camera or computer and feature slideshow transition options, an alarm clock, and are compatible with a variety of memory cards. Both 8-inch models also feature a remote control and feature 128MB of internal memory.
"We're well known already for our LCD products, " said Alison Hau, product manager for ViewSonic. "So we feel we have an advantage, and also the best quality."
All three are currently available and feature one-year warranties: the 7-inch retails for $99 and both 8-inch models retail for $119.
Mustek

PF-i700 – This 7-inch frame features a built-in iPod dock to display iPod pictures and video. "The new PF-i700 has the expanded multimedia capabilities to play all these digital entertainment options on one screen without the cable clutter, redefining today's iPod experience," said David Ficken, national sales and marketing manager for Mustek.
The frame features 480 x 234 resolution and a widescreen 16:9 aspect ratio. Its stand is removable, enabling it to be mounted on a wall. The frame also features speakers and a headphone jack. Besides the iPod, the frame can read SD, xD, MMC, MemoryStick, and MemoryStick Pro cards, and features a USB port to connect computers. It will retail for $129.99 when it ships in March.
Parrot


DF7220 – Parrot continues its line of Bluetooth-enabled digital photo frames with the DF7220. The 7-inch frame can display both JPEG and GIF files, and can store up to 300 photos with its internal memory. Photos can be transferred to the frame from any Bluetooth-enabled device, including cell phones, computers, or cameras. The frame also supports SD/MMC memory card media and mini USB cables. Pricing and availability have not yet been announced.
DF3120 – This 3.5-inch frame features Wi-Fi technology in addition to Bluetooth compatibility. Up to 300 photos can be stored on the frame's internal memory, and SD/MMC memory cards can be used. A mini USB port is also featured for added connectivity. Pricing and availability have not yet been announced.