Cameras
CES Digital Photo Frames Round Up
CES Digital Photo Frames Round Up, A-Data, Ceiva, Mustek, Parrot, Smartparts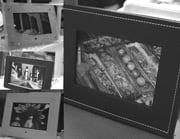 *Las Vegas, Nevada, January 10, 2007 –* Many of the new designs for digital frames were on display this week at CES. Digital frames run the gamut in their offerings with features such as video, music, Bluetooth, Wi-Fi, oh my! Digital photo viewers, and frames. With increasing availability, digital picture frames are growing in frame size, becoming more affordable, offering internet connectivity, and allowing consumers to get their photos back on their mantles for display. Read on for the digital photo frame highlights at CES.
MS , and MS Pro media.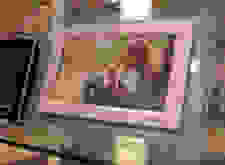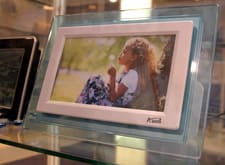 MS , and USB drives.  Both frames have a 112,320 pixel resolution display.  Pricing has not yet been announced. 
Ceiva

*Ceiva 7-inch Digital Photo Frame
Ceiva 8-inch Digital Photo Frame*** – **Announced last month but showcased this week at CES, Ceiva offers Wi-Fi enabled digital picture frames.  Users can automatically upload images to the frame with any analog, wireless, or broadband network in the world, according to a company press release.    
The Ceiva Digital Photo Frames require additional PicturePlan fees for Internet connection but is also compatible with CF, SD, SDHC, xD, and MS cards for those users who opt to go without connection.   The 7-inch Ceiva is $149.99 with three months of included PicturePlan service, and the 8-inch frame is $199.99. 
Cevia plans to release PC connectivity in the later half of this year.
For more information, refer to our earlier coverage of the Ceiva frames athttps://www.reviewed.com/cameras/content/CEIVA-Unveils-%E2%80%9CWorld%E2%80%99s-First%E2%80%9D-Wi-fi-enabled-Digital-Frame.htm.  
Kodak
Kodak, a manufacturer with an online photo-sharing site, announced this week its new product line of digital photo frames.All their frames are compatible with JPEG images, MPEG-1, MPEG-4, MOV, AVI video format, and MP3 audio. The frames accept CF, SD, MMC, xD, MS cards, and USB drives.  The frames come in a variety of styles, including frosted floral glass, walnut wood, silver, and whiteboard. With the whiteboard frame, user's can customize the frame with non-permanent marker. 
Kodak EasyShare EX1011 Digital Picture Frame – This Wi-Fi enabled 10-inch frame has a 800 x 480 screen for 16:9 ratio viewing.  The EX1011 has 128MB of internal memory and will retail for $279.95. 
Kodak EasyShare EX811 Digital Picture*Frame* – The 8-inch 800 x 480 display is also capable of 16:9 wide viewing.  The suggested retail price is $229.95.
Kodak EasyShare SV811 Digital Picture*Frame* – The SV811 adds Wi-Fi connection to the 8-inch EX811 frame. The frame is $179.95.           
Kodak EasyShare SV710 Digital Picture Frame – This 7-inch frame has a 480 x 234 pixel display with wide 16:9 viewing.  The frame will cost $129.95. 
All the Kodak digital frames will be available in early March.****

City , Staples, and Ritz Camera.