Cameras
Digital Camera Equipment Disguised
Think Tank Photo's Urban Disguise camera bags conceal your digital SLR camera.
March 27, 2007 - Photography equipment manufacturer Think Tank Photo has announced the release of Urban Disguise bags, designed to ward off the attention of camera crooks.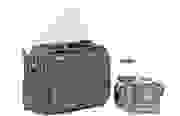 The over-the-shoulder bags are nondescript and resemble run-of-the-mill luggage. The bags are available in six sizes - the largest models are roomy enough to hold multiple digital SLR cameras, lenses, and laptops.
"This design concept is the culmination of years of observation of photojournalists and other photographers who have jury-rigged their bags to decrease their public exposure," said Think Tank Photo founder and lead designer Doug Murdoch. "Whether you are a professional who wishes to maintain a lower profile in potentially dangerous situations or a serious amateur who wishes to lessen the risk of having your gear ripped off, the Urban Disguise's low profile design allows you to carry the right gear with less fear."
A portion of sales of Urban Disguise bags will be donated to Reporters Without Borders USA.
The bags retail for $69 - $189 and are available for purchase at thinktankphoto.com and select photography equipment retailers.