Cameras
Hands On With Adobe Photoshop Express
March 27, 2008 - Photoshop has unleashed its free online beta, Photoshop Express. It's an in-browser editing system that utilizes many of standard Photoshop's best features, enabling users to edit their photos and easily share them on blogs, networkin
*
March 27, 2008 - *Photoshop has unleashed its free online beta, Photoshop Express. It's an in-browser editing system that offers many of Photoshop's best features, enabling users to edit their photos and easily share them on blogs, networking websites, or via their own Photoshop-supported online gallery, which can store up to 2GB of images. We had to check it out.
Photoshop Express is a Flash application, so it only needs the flash player to be installed to use. Users select their own username to be created into their own URL – NAME.photoshop.com, and are then taken to an upload screen. There, users can add images to their library, create a new album, or add images to an existing album. Uploading isn't super fast, but isn't cumbersome – it took a little less than two minutes to upload four full-sized images to our library.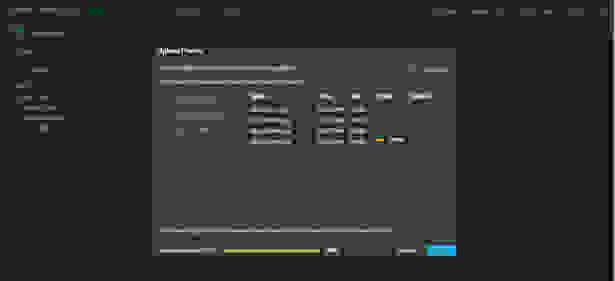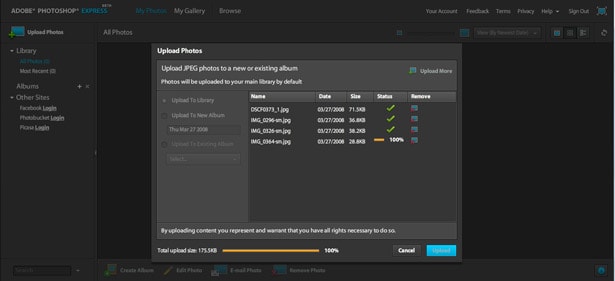 Interesting to note is Photoshop Express' compatibility with other networking sites. Users can log into their Facebook, Photobucket, and Picasa accounts right in the Express window, and can then edit photos on those sites. With the Facebook option, users can reload the edited images and drop them right back into their original Facebook album, although it doesn't replace the old, unedited version.
On the main "My Photos" page, a scroll bar at the top allows viewers to adjust the view of their images, making them larger or smaller. Images can also be sorted by Date, Caption, or Rating.
Images can be viewed as a single image with remaining images horizontally at the top of the screen, a grid of images, or a table of information (image on left with date taken, date posted, date modified, width and height, and rating on the right).
Captions can be added under the images, and a rating of 1 to 5 stars can be given.
Hovering over an image brings up a "Photo Options" menu. Clicking on it brings up the options: Edit Photo, Rotate Right, Rotate Left, Revert (to original image), E-mail Photo, Link, Embed, Download, Use As Album Cover, Use As Profile Image, Use as Gallery Background, Remove From Album, and Remove From Library. When highlighting a photo, several of these options can also be found at the bottom of the screen, marked by icons: Create Album, Edit Photo, E-mail Photo, and Delete Photo. It's a little redundant, but doesn't clutter the screen.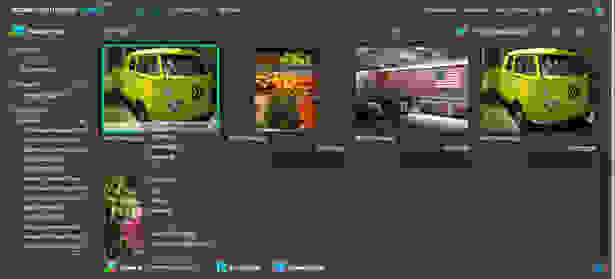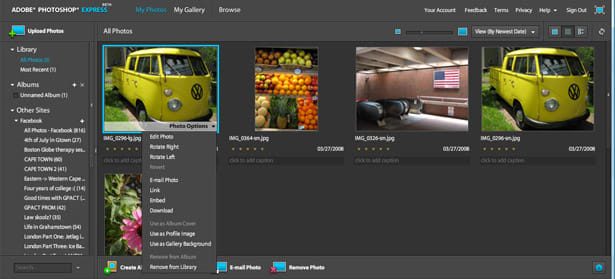 Clicking on Edit Photo brings the image to the center of the screen. A list of options is on the left, marked by three headers: Basics, Tuning, and Effects.
The coolest tool under "Effects" is Pop Art. Select a color in the image using an eyedropper tool and Photoshop automatically mutes the background colors and creates six different options, swapping the selected color with bright hues in blue, pink, green, and orange. Save a photo by clicking on your favorite then clicking "save." The best part is you can always revert back to the original image if you decide you don't want to keep your changes.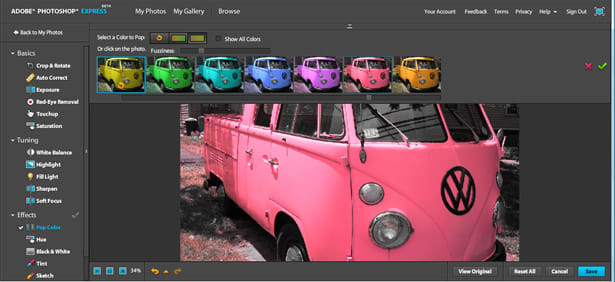 You can also convert images to black and white – Photoshop creates a number of black and white variations at the top of the screen users can choose between. Tint allows users to choose between sepia, green, blue, violet, purple, and red tints. Sketch, shown below, makes the image look like a drawing. Again, users are given a number of slightly-different sketches to choose from, listed at the top of the screen. Distort allows users to artistically distort portions of the image in a variety of ways. All are fun ways to play around with your images.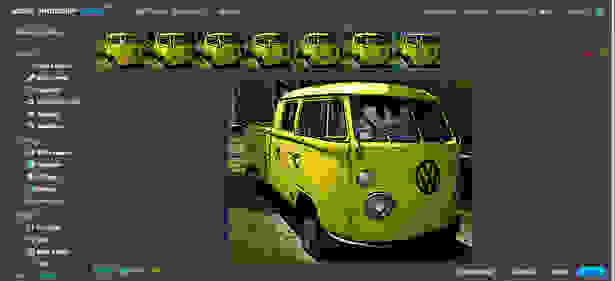 Under the "Tuning" heading, users can fix white balance, highlights, fill light, sharpen, or soften focus. These options are very beginner-friendly – in the white balance, for example, small icons show users which sort of light they are correcting for, like sunny, cloudy, or indoor lighting. The several options at the top of the screen gives users the chance to see the results of their edits before saving.
Under "Basics," users can crop and rotate images, Auto Correct for one-touch editing, or fix exposure, red eyes, small touchup, or saturation.
Photoshop Express is made for beginners and is extremely user-friendly. Confused about a tool? Hover over it and Photoshop provides an easy-to-understand description. It's not good for users who really like to get in there and fine-tune their images, however. Users are given a number of options after clicking on a tool, and can choose between them. It's perfect for beginners, but professionals will most likely be left wanting more. You can't, for instance, directly tweak the settings that produce the effects; you can just use the presets that Photoshop Express provides.
Sharing images is easy, as well. In the "Photo Options" menu, found by hovering over an image in the gallery, users can select "Link," which copies a link to the image, or "Embed," which creates an HTML code to drop into blogs or Web sites, like the sample below.
You can also create slideshows that can be linked with images from your blog or web site, such as the example below. You can't embed the slideshow itself in your blog; the system hyst features the first image from the slideshow and a link to the page.
E-mailing images is easy, too – just click the "E-mail Photo" icon at the bottom of the screen, enter a recipient and a message, and off it goes.
In the Browse option, users can browse other users' albums and mark other users' albums as their favorites. When users make an album, they can choose to share an album by clicking the "Share Album" icon at the bottom of the screen. This allows users to either share the album publicly, share publicly and e-mail designated friends, or e-mail friends only without sharing the album publicly. This gives users the chance to display some albums while keeping others private.
Adobe isn't the first to launch a free in-browser editing program. Flickr recently teamed up with Picnik to offer in-browser editing for its images. Flickr's program is good, too, with options Photoshop Express doesn't have, like the ability to add text and shapes to images. It also has a little more fine control, with scroll bars to let users adjust options like color and sharpness with fine detail.
Picnik's editing program has many more editing options, like making an image look like a neon light, a heat map, or a pencil sketch, but these options are only available with the "Premium" edition, which costs $24.95 a year. The free options are almost the same as the ones Photoshop Express offers, in a clearer, easier-to-use format.
Adobe is looking for feedback from users, since Express is a beta version and remains unfinished. A Feedback button at the top right of the screen allows users to send critiques directly to Adobe.
Overall, Photoshop Express accomplished what it seeks to do – bringing basic photo editing to the masses without having to buy an expensive program to do it. It's great for beginners, but professionals will be left wanting more.