*May 9, 2005 *- Konica Minolta introduced a new member of their stylish X-series today, unveiling the slight 5-megapixel DiMAGE X60, which boasts a 2.5 inch LCD, half second start-up time, and 3x optical zoom lens. The X60 also offers 15MB of internal memory and is PictBridge enabled. The X60 is expected to ship later this month, retailing for $349.
"The stylish and very easy-to-use new DiMAGE X60 digital camera has been designed so today's snap shooters won't miss a single photographic opportunity," said Todd Schrader, senior vice president of sales and marketing for Konica Minolta Photo Imaging U.S.A., Inc. "This camera is so lightweight and slim, it can be easily carried every day in a shirt pocket or a purse."
The lightweight and slim moniker being heralded by the manufacturer comes from the DiMAGE X60's 3.3 x 2.2 x 0.9-inch body and trim four ounce weight, including memory card and battery. In addition to the 15MB of internal storage provided, the X60 also accepts SD memory cards or MultiMediaCards. With caveats, Konica Minolta claims the X60's 0.5-second start up time is the fastest among compact cameras sporting 3x optical zoom lenses as of April 2005. With a virtually unperceivable shutter lag of .08 seconds, Konica Minolta feels it has a quick shooting winner in the X60.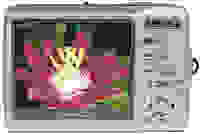 In movie mode, the Konica Minolta X60 can capture video with monaural audio at 320 x 240 resolution, shooting at either 15 or 30 frames-per-second until the memory is full. Up to 40 seconds of video can be saved at a rate of 15 fps with a 16 MB additional memory card or up to 20 seconds at the full 30 fps recording rate. Video capture modes include Movie Frame Capture, Movie Clip Capture and Night Movie.
Some of the other details on the Konica Minolta X60 include: Shutter speeds ranging from 4 seconds to 1/1000th of a second; Images can be saved at full resolution in a 2560 x 1920 aspect ratio, down to 640 x 480; a 10-second self-timer is also included as well as an additional 4x digital zoom.
In addition to Auto Macro and Super Macro modes, the X60 offers portrait, sports action, text, night portrait, sunset and landscape modes. Flash modes include Autoflash, Autoflash with red-eye reduction, Fill-flash or flash cancel. White balance control on the X60 consists of a fully automatic setting or four presets: daylight, cloudy, tungsten and fluorescent, but lacks a custom setting.
Battery performance for the X60's NP700 Lithium-ion is estimated at 200 minutes in continuous playback or up to 150 frames of recording.