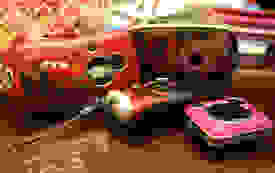 Las Vegas, Nevada, January 11, 2007 – With all the grown-up point-and-shoots models announced for CES, Digital Blue Corp. and Disney couldn't forget about the kids. The entertainment product manufacturer Digital Blue and Disney announced three new kid-friendly cameras, ranging from 1-megapixel at under $20 to a 3-megapixel resolution at nearly $80, all available now at retailers.
Disney and Digital Blue partnered just last year to launch the American Idol Digital Camera and the American Idol Digital Camcorder that some parents may be familiar with. The American Idol products have witnessed an "usual success," particularly with sales generated from drugstores, according to Digital Blue Vice President of Marketing Julie Gibbons in an interview with DigitalCameraInfo.com.
The new Disney-themed cameras are expected to do similarly well. Designed for ages 9 and up with camera style and functionality, the products are geared towards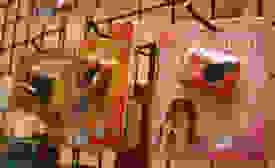 the teen and tween market of kids who are "old enough to know what they like…but are not buying the $250 product," said Gibbons. The cameras come with Disney themes and basic automatic features.
Their most economic model, the Disney Pix Micro Digital Camera fits in the palm of a hand and can be used as a camera keychain. At a thrifty price of $19.99, the Pix Micro has a limited 352 x 288 resolution, no viewfinder, and no LCD preview, but it does have a photo counter for a maximum storage allowance of 40 CIF (352 x 288) images. Themes include the Disney movie titles, including The Little Mermaid, Cars, and Pirates of the Caribbean.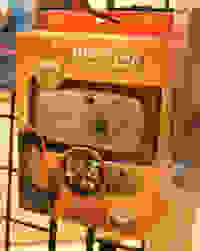 The next model up is the Disney Pix-Click Digital Camera for $49.99. The camera has a resolution of 640 x 480 that can store 16MB of memory. The Pix-Click also has a built-in auto flash and 1-inch LCD preview screen.
Their flagship kids' camera is the Disney Pix Max Digital Camera. At $79.99, the camera has 3 megapixels and 16 MB of internal memory. Unlike the other cameras, the Pix Max accepts additional memory with compatible SD and MMC slots. The camera has a 4x digital zoom, auto flash, and a 1.5-inch LCD screen.
The real component of all the Disney cameras is the included free editing software, Disney Pix 2.0. The colorful, icon-based editing software allows users "to make their pictures extra special," said Gibbons. With each move complimented with a sound effect, a user can add border frames, stamps, and characters including Aladdin or Johnny Depp. Users can then print their images via a USB connection.
Digital Blue is in talks with online photo-sharing sites for direct upload, although no official partnerships have been announced yet, said Gibbons to DigitalCameraInfo.com.
The Disney Pix Micro, the Pix-Click, and the Pix Max are available now at retailers including Circuit City and will be available at Target in the spring.