*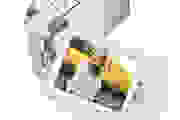 May 24, 2005 - *A minor setback following their recent run of resurgent successes, Kodak will reportedly delay shipment of its anticipated EasyShare One WiFi digital camera until the fall.
According to the Wall Street Journal, the EasyShare One will be delayed past its June date until sometime in October. Kodak has partnered with T-Mobile and its 5,200 HotSpots around the country to transmit images from the camera to an online gallery.
While Kodak reportedly declined to explain the delay, they reportedly said that with a significant advancement in technology such as the EasyShare One (Kodak) was taking time to do it right. The EasyShare One is expected to retail for $599, with the additional Kodak WiFi card at $99.
When unveiled in January the 4 megapixel EasyShare One drew praise for innovations such as its ability to wirelessly transmit images from the camera via T-Mobile HotSpot locations. The images can then uploaded to Kodak's online EasyShare Gallery (formerly Ofoto).
Up to 1,500 images can saved inside the EasyShare One due to its 256 MB of internal memory. Navigating the EasyShare One can be accomplished by using the articulated 3-inch LCD via touch screen and stylus.
The lens on the EasyShare One is 3x optical zoom, 36-108mm (35mm equivalent). Additionally, the EasyShare One can shoot video at 30 frames per second at a resolution of 640 x 480.
T-Mobile has plans to initially give all EasyShare One camera owners a free, camera-specific T-Mobile HotSpot trial. According to a T-Mobile release from January, a software update permitting direct connections via the T-Mobile HotSpot WiFi service, may be downloaded to the camera in the third quarter of this year, or sometime between July and September.