Cameras
EDGE Tech Releases SDHC Card/Reader Bundle
Technology enhancement company EDGE Tech Corporation has announced two new digital memory products. Their Secure Digital High Capacity (SDHC) Memory Card and the SDHC All-In-One reader are offered together to improve the transport and storage of digital m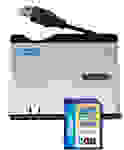 June 20, 2007 – EDGE Tech Corporation has announced two new digital memory products; an SDHC card and All-In-One card reader. The products will be offered together to improve the transport and storage of digital media, according to the company.
The EDGE SDHC card is now available in 4GB and 8GB capacities for storing numerous high-resolution photos. The cards have a Class 6 speed rating, the fastest in the SDHC market.
The EDGE All-In-One Reader with SDHC capabilities also supports the xD picture card, Memory Sticks, CompactFlash, SD, and Mini SD cards. The reader has a built-in USB cable and does not require any external power or connection cables.
The reader coupled with the EDGE 4GB SDHC card retails for $84.95 on the EDGE Web site, while the reader/8GB SDHC combo costs $134.95.