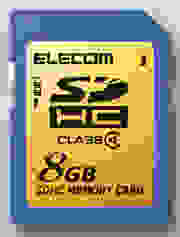 *November 30, 2006 *– Japanese accessory manufacturer Elecom announced its 8GB Class 4 SDHC memory card today, the MF-FSDH08G.  Pricing has not yet been announced, but the Elecom card is expected to be available in January 2007.
The Elecom 8GB SDHC card is compliant with the SD ver2.0 standards for a Class 4 qualification.  The Elecom card has a minimum write speed of 4 MB per second and a maximum of 7 MB per second transfer rate, according to the Elecom release today.
Last week, Toshiba introduced an 8GB Class 4 SDHC card, which they labeled the "world's highest class of SDHC card," in a Nov. 20 press release.  The Toshiba card, however, only has a maximum write speed of 6 MB per second.
The 8GB Elecom SDHC card measures 24 x 32 x 2.1mm and comes with a 1-year warranty.**