Cameras
Epson Releases Digital Rangefinder - Integrates Traditional Photographic Mechanism with Digital Technology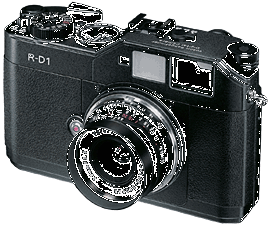 October 21, 2004 — The world's first digital rangefinder finally comes to America. After a March release in Japan, Epson announced plans today to start shipping the Epson R-D1 to the United States on November 1. This rangefinder camera fuses a classic look of the past with the most recent digital technology. The 6.1 megapixel camera is the first to support L and M-mount lenses.
"The EPSON R-D1 is a true digital rangefinder camera that allows photographers like myself to work in the digital world with a classic rangefinder, using the prized lenses we have accumulated over the years and know so well," said Ben Fernandez, an award winning photojournalist and Guggenheim Fellow. "The EPSON R-D1 enables me to continue working with the same tools that I have grown accustomed to throughout my career, and transition seamlessly, without compromise, into the new age of digital photography."
Epson has reinvented traditional features such as the film rewind knob, which now acts as a jog dial to scroll through images on the LCD screen. The Epson R-D1 doesn't sacrifice functionality for fashion. Its 0.93 x 0.61-inch C-size CCD can record images as large as 3008 x 2000 pixels, producing quality prints up to 16 x 20 inches. The 1.3-pound Epson R-D1 has a 2-inch LCD monitor with 235,000 pixels. The LCD can flip out and rotate 180 degrees.
The camera has two exposure modes, manual and aperture priority, and traditional digital camera options. The Epson R-D1 has a shutter speed range between 1 and 1/2000th of a second, ISO sensitivity from 200-1600, seven white balance settings and exposure compensation from -2 to +2 in 1/3 steps. The R-D1 can also capture images in two JPEG file formats or a RAW mode.
The 5.6 x 3.5 x 1.6-inch magnesium alloy Epson R-D1 will be selling in the United States for a suggested retail price of $2,999.