October 25, 2004 — For those who were paying attention, the Epson L-500V was announced in September, but was declared as available for purchase in an Epson press release on Thursday. The camera will be available in November for $399. The 5-megapixel digital camera is definitely a point-and-shoot style, replacing the viewfinder with a 2.5-inch 262,000-pixel LCD monitor.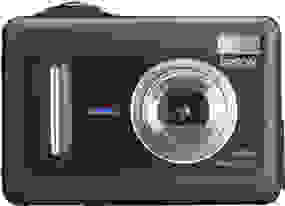 "People are taking and sharing more pictures than ever and are moving away from looking through the viewfinder to take a photo," said Carrie Allen, assistant product manager in digital cameras for Epson. "We're seeing people framing the subject through the LCD on the back of their digital cameras instead."
The Epson L-500V has automatic and manual modes, as well as four scene modes. The camera has a 3x optical and 4x digital zoom lens and uses a Secure Digital card for memory storage. The Epson L-500V shoots up to three frames a second at the highest resolution, which is quite good for a compact digital camera.
The Epson L-500V has an interesting feature called the Print Image Framer. This function allows users to select a themed frame design for their pictures. For example, if you spend a day at Disneyland with the kids and take a photo of your adorable four-year-old with Mickey Mouse, you can choose the Mickey Mouse-themed frame for that picture. Then when you print out the photo, it will come aesthetically framed and ready to place on your child's bedroom door. Four of these frames are stored on the Epson L-500V, but the camera comes with a CD with more frame designs. The camera also comes with software that allows users to build their own personalized frames and upload them.
Overall, this product is one to wait and see. The press releases speak more about the niche features like the Print Image Framer and the continuous shooting mode rather than the accentuating shooting modes or ISO range (from 100 to 400). Hopefully those interesting features don't compromise the quality of the basic functions of the Epson L-500V.